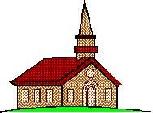 The Full Gospel Church
---

      Vol. I Issue 8        November 2, 1997

      
---
The Day of Salvation
2 Corinthians 6:1-2
1 We then, as workers together with him, beseech you also that ye receive not the grace of God in vain.
2 (For he saith, I have heard thee in a time accepted, and in the day of salvation have I succoured thee: behold, now is the accepted time; behold, now is the day of salvation.)
There are many who think that they can put off being saved until tomorrow, next week, or until they become old and close to death's door. These people do not realize that they are playing with fire, for they do not foresee what tomorrow will bring. For we read daily about some one being murdered in cold blood, or how someone died in an auto accident. These and other instances are signs for us that today is the day of salvation. But most people see these warnings without giving them any heed, for they think that it won't happen to them. They feel that they are immune from the consequences of sin and that they have much time to put off repenting. They feel that there is plenty of time in the future to repent and become a Christian. Tomorrow and tomorrow and tomorrow never comes. Thus making the day of salvation for them never happen.
The terrible end for these people is a fiery hell of eternal torment, a torment that is ever constant and never ending. A torment with no end or beginning. A torment that lasts and lasts and the memory of the many times that they were asked to come to the altar of repentance. A memory of the times that they ridiculed the preacher, laughing at him for preaching on the street and telling him to repent. A memory of all the times that he had the opportunity to repent and didn't. A memory of all of the lost opportunity that he had and failed to use it to his demise.
And while he is burning in the inferno of hell with no hope for an eternity to look at, he thinks that he didn't have to be there. He feels the flames all around him, and the eternal torment burning, burning, burning with a knowledge that this will last for all eternity.
What a horrible condition to find oneself in. What a torment without hope to find oneself in. Just because he didn't think that the time was so near, that the time was at hand, for he thought he had more time to make a decision for the Lord. How many people have spent a lifetime warming the church pews without any heed to the call of redemption. How many are there that feel and think that by being ``good enough,'' that they will be able to pass into the pearly gates of heaven. How many are there that think that they are able to work their way into heaven to by doing enough good works that the Lord will find them worthy enough to enter heaven on their own accord? Woe to them that feel this way for they will have a rude awakening when the day of judgment is at hand. Woe to them when they find themselves answering Jesus Christ, explaining that they didn't think that receiving his precious Spirit was that important. Woe to them when they are face to face with an angry God for they didn't repent of their sins when they had the opportunity.
How much longer do we have on this earth before it is our time to come into the presence of the everlasting? Does any of us know what tomorrow will bring? Does any of know what will happen within the next hour? This is why the scripture plainly teaches and expounds that NOW is the day of salvation. Now is the hour of salvation, for we do not know what will happen in the next hour, much less what tomorrow will bring. If there is any doubt in your heart about where you stand with the Lord Jesus, now is the time to seek Him and repent of all of your sins. Now is the hour of salvation, now is the minute of salvation, for the time is at hand to call upon the Lord and seek his face.
What is holding you back? Is your pride getting in the way? Are you afraid what others will think if they see you coming to the altar to seek repentance? Are you supposed to already be saved, and all of the others know it. Is that what is holding you back? Is a little pride worth an eternity in the lake of fire, burning for all eternity? Is a little pride going to destroy your opportunity to enter the gates of heaven? Come, for the time is precious and the day is at hand for you to seek the Lord Jesus Christ.
---
The Full Gospel Church

	3014 E Street
	Philadelphia, PA  19134
	Church Office Phone: (215) 634-3637
	Published by: Rev. LeRoy D. Cressy (215) 389-5870


	                    Services:

	Sunday School  . . . . . . . . . . . . . .10:30 AM

	Sunday Morning Worship . . . . . . . . . . 12 NOON

	Sunday Evening . . . . . . . . . . . . . . 6:30 PM

	Wednesday Evening  . . . . . . . . . . . . 7:30 PM

    
Last modified: Mon Oct 20 11:53:41 EDT