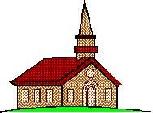 The Full Gospel Church
---

      Vol. I Issue 11        November 23, 1997

      
---
Our Inheritance Stolen by the Wolves
---
Our Inheritance:
Romans 8:15-18
15 For ye have not received the spirit of bondage again to fear; but ye have received the Spirit of adoption, whereby we cry, Abba, Father.
16 The Spirit itself beareth witness with our spirit, that we are the children of God:
17 And if children, then heirs; heirs of God, and joint-heirs with Christ; if so be that we suffer with him, that we may be also glorified together.
18 For I reckon that the sufferings of this present time are not worthy to be compared with the glory which shall be revealed in us.
---
There are people that have crept into the church unawares, men who are wolves seeking to devour the flock. These are they that are spoken in the Bible by both the Lord Jesus and the Apostles. Jesus knew that the heart of man is wicked and that wicked men would infiltrate the church and corrupt it. He saw that the church would revert back into idol worship, having a form of godliness, but denying the power there of. All of this is relevant and can be seen today in all denominations. People would rather believe a lie than research and search the scriptures for the truth. And this lack of study has lead many down the road to losing their inheritance.
Acts 20:18-32
18 And when they were come to him, he said unto them, Ye know, from the first day that I came into Asia, after what manner I have been with you at all seasons,
19 Serving the LORD with all humility of mind, and with many tears, and temptations, which befell me by the lying in wait of the Jews:
20 And how I kept back nothing that was profitable unto you, but have shewed you, and have taught you publickly, and from house to house,
21 Testifying both to the Jews, and also to the Greeks, repentance toward God, and faith toward our Lord Jesus Christ.
22 And now, behold, I go bound in the spirit unto Jerusalem, not knowing the things that shall befall me there:
23 Save that the Holy Ghost witnesseth in every city, saying that bonds and afflictions abide me.
24 But none of these things move me, neither count I my life dear unto myself, so that I might finish my course with joy, and the ministry, which I have received of the Lord Jesus, to testify the gospel of the grace of God.
25 And now, behold, I know that ye all, among whom I have gone preaching the kingdom of God, shall see my face no more.
26 Wherefore I take you to record this day, that I am pure from the blood of all men.
27 For I have not shunned to declare unto you all the counsel of God.
28 Take heed therefore unto yourselves, and to all the flock, over the which the Holy Ghost hath made you overseers, to feed the church of God, which he hath purchased with his own blood.
29 For I know this, that after my departing shall grievous wolves enter in among you, not sparing the flock.
30 Also of your own selves shall men arise, speaking perverse things, to draw away disciples after them.
31 Therefore watch, and remember, that by the space of three years I ceased not to warn every one night and day with tears.
32 And now, brethren, I commend you to God, and to the word of his grace, which is able to build you up, and to give you an inheritance among all them which are sanctified.
Matthew 7:15
15 Beware of false prophets, which come to you in sheep's clothing, but inwardly they are ravening wolves.

Matthew 10:16
16 Behold, I send you forth as sheep in the midst of wolves: be ye therefore wise as serpents, and harmless as doves.

Luke 10:3
3 Go your ways: behold, I send you forth as lambs among wolves.

Acts 20:29
29 For I know this, that after my departing shall grievous wolves enter in among you, not sparing the flock.
Now we being the children of God making us heirs of God must rouse ourselves from sleep and search the scriptures. It is our responsibility and privilege to have the word of God available to us. There are many that tell their congregations false doctrines that sound good to the ears. These people in these congregations have no excuse, for they have the word of God available to them. There is no excuse for not searching the scriptures for yourselves. There is not a single reason to believe that the Word of God is hidden and cannot be understood by the regular church attendant. This is what one of the largest churches in the world did for years, for they were afraid that if the audience started reading the scriptures for themselves that they would leave. This very fear they had nothing to worry about, for they didn't take into account that many would buy Bibles, but not take the time to read them. Thus, this past week there was a front page headline in the paper about returning to eating fish on Fridays. If people would read their Bibles for themselves, they would realize that the spiritual things are not governed by rules of men.
Thus, many have fallen asleep, and are lost, for their inheritance from God has been stolen by the wolves that have lead them astray.
---
The Full Gospel Church

	3014 E Street
	Philadelphia, PA  19134
	Church Office Phone: (215) 634-3637
	Published by: Rev. LeRoy D. Cressy (215) 389-5870


	                    Services:

	Sunday School  . . . . . . . . . . . . . .10:30 AM

	Sunday Morning Worship . . . . . . . . . . 12 NOON

	Sunday Evening . . . . . . . . . . . . . . 6:30 PM

	Wednesday Evening  . . . . . . . . . . . . 7:30 PM

    
Last modified: Mon Oct 20 11:53:41 EDT