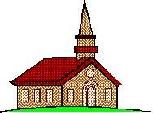 The Full Gospel Church
---

      Vol. II Number 13                     April 12, 1998

      
---
The Meaning of Easter
In this modern society many are caught up with the celebrations and festivities. Today is Easter Sunday, and there is all of the excitement of children this morning running down stairs to get their candy that the ``Easter Bunny'' left for them. There is no mention of a risen Saviour who was slain on the cross for our redemption. None of the merchants show any concern or care for the true meaning of Easter, but their only concern seems to be to sell more candy and flowers.
Though the world today is all concerned with the outward trappings of Easter, they cannot take away the true meaning of the resurrection of Christ for the Christian. For on the third day Jesus rose from the dead!
John 20:1-20
1 The first day of the week cometh Mary Magdalene early, when it was yet dark, unto the sepulchre, and seeth the stone taken away from the sepulchre.
2 Then she runneth, and cometh to Simon Peter, and to the other disciple, whom Jesus loved, and saith unto them, They have taken away the LORD out of the sepulchre, and we know not where they have laid him.
3 Peter therefore went forth, and that other disciple, and came to the sepulchre.
4 So they ran both together: and the other disciple did outrun Peter, and came first to the sepulchre.
5 And he stooping down, and looking in, saw the linen clothes lying; yet went he not in.
6 Then cometh Simon Peter following him, and went into the sepulchre, and seeth the linen clothes lie,
7 And the napkin, that was about his head, not lying with the linen clothes, but wrapped together in a place by itself.
8 Then went in also that other disciple, which came first to the sepulchre, and he saw, and believed.
9 For as yet they knew not the scripture, that he must rise again from the dead.
10 Then the disciples went away again unto their own home.
11 But Mary stood without at the sepulchre weeping: and as she wept, she stooped down, and looked into the sepulchre,
12 And seeth two angels in white sitting, the one at the head, and the other at the feet, where the body of Jesus had lain.
13 And they say unto her, Woman, why weepest thou? She saith unto them, Because they have taken away my LORD, and I know not where they have laid him.
14 And when she had thus said, she turned herself back, and saw Jesus standing, and knew not that it was Jesus.
15 Jesus saith unto her, Woman, why weepest thou? whom seekest thou? She, supposing him to be the gardener, saith unto him, Sir, if thou have borne him hence, tell me where thou hast laid him, and I will take him away.
16 Jesus saith unto her, Mary. She turned herself, and saith unto him, Rabboni; which is to say, Master.
17 Jesus saith unto her, Touch me not; for I am not yet ascended to my Father: but go to my brethren, and say unto them, I ascend unto my Father, and your Father; and to my God, and your God.
18 Mary Magdalene came and told the disciples that she had seen the LORD, and that he had spoken these things unto her.
19 Then the same day at evening, being the first day of the week, when the doors were shut where the disciples were assembled for fear of the Jews, came Jesus and stood in the midst, and saith unto them, Peace be unto you.
20 And when he had so said, he shewed unto them his hands and his side. Then were the disciples glad, when they saw the LORD.
When the Apostle John wrote his Gospel, he wrote it about 30 years after the destruction of Jerusalem in 70AD. Without the resurrection of Jesus, there would be no resurrection for us. We need a risen Saviour who has already conquered death, hell and the grave so that we have a hope of a glorious resurrection for ourselves. And only through Jesus, do we have that hope. Only through a risen Saviour is there any hope that we will rise and be like Him. Easter is all about resurrection and redemption. It is not about candy, and easter bunnys! It is about Jesus' resurrection from the dead and forever being alive. It even comes down to our own resurrection from the dead, for without Jesus' resurrection we would be lost and without hope. Without Jesus there is no resurrection.
1 Corinthians 15:12-17
12 Now if Christ be preached that he rose from the dead, how say some among you that there is no resurrection of the dead?
13 But if there be no resurrection of the dead, then is Christ not risen:
14 And if Christ be not risen, then is our preaching vain, and your faith is also vain.
15 Yea, and we are found false witnesses of God; because we have testified of God that he raised up Christ: whom he raised not up, if so be that the dead rise not.
16 For if the dead rise not, then is not Christ raised:
17 And if Christ be not raised, your faith is vain; ye are yet in your sins.
Easter is about Christ's resurrection and our coming resurrection. The only hope of eternal life comes through the resurrection of Jesus. It through His resurrection that we have any hope in an eternal life with Him. It is only through Jesus that there is a hope and assurance that we have a promised heavenly home with Jesus Christ the Lord.
1 Corinthians 15:1-8
1 Moreover, brethren, I declare unto you the gospel which I preached unto you, which also ye have received, and wherein ye stand;
2 By which also ye are saved, if ye keep in memory what I preached unto you, unless ye have believed in vain.
3 For I delivered unto you first of all that which I also received, how that Christ died for our sins according to the scriptures;
4 And that he was buried, and that he rose again the third day according to the scriptures:
5 And that he was seen of Cephas, then of the twelve:
6 After that, he was seen of above five hundred brethren at once; of whom the greater part remain unto this present, but some are fallen asleep.
7 After that, he was seen of James; then of all the apostles.
8 And last of all he was seen of me also, as of one born out of due time.
---
The Full Gospel Church

	3014 E Street
	Philadelphia, PA  19134
	Church Office Phone: (215) 634-3637
	Published by: Rev. LeRoy D. Cressy (215) 535-4037 


	                    Services:

	Sunday School  . . . . . . . . . . . . . .10:30 AM

	Sunday Morning Worship . . . . . . . . . . 12 NOON

	Sunday Evening . . . . . . . . . . . . . . 6:30 PM

	Wednesday Evening  . . . . . . . . . . . . 7:30 PM

    
Last modified: Sun Apr 12 05:53:53 EDT