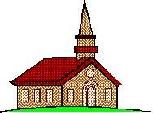 The Full Gospel Church
---

      Vol. II Number 15                     April 26, 1998

      
---
The Forgiveness of Jesus
John 5:1-14
1 After this there was a feast of the Jews; and Jesus went up to Jerusalem.
2 Now there is at Jerusalem by the sheep market a pool, which is called in the Hebrew tongue Bethesda, having five porches.
3 In these lay a great multitude of impotent folk, of blind, halt, withered, waiting for the moving of the water.
4 For an angel went down at a certain season into the pool, and troubled the water: whosoever then first after the troubling of the water stepped in was made whole of whatsoever disease he had.
5 And a certain man was there, which had an infirmity thirty and eight years.
6 When Jesus saw him lie, and knew that he had been now a long time in that case, he saith unto him, Wilt thou be made whole?
7 The impotent man answered him, Sir, I have no man, when the water is troubled, to put me into the pool: but while I am coming, another steppeth down before me.
8 Jesus saith unto him, Rise, take up thy bed, and walk.
9 And immediately the man was made whole, and took up his bed, and walked: and on the same day was the sabbath.
10 The Jews therefore said unto him that was cured, It is the sabbath day: it is not lawful for thee to carry thy bed.
11 He answered them, He that made me whole, the same said unto me, Take up thy bed, and walk.
12 Then asked they him, What man is that which said unto thee, Take up thy bed, and walk?
13 And he that was healed wist not who it was: for Jesus had conveyed himself away, a multitude being in that place.
14 Afterward Jesus findeth him in the temple, and said unto him, Behold, thou art made whole: sin no more, lest a worse thing come unto thee.
John 8:1-11
1 Jesus went unto the mount of Olives.
2 And early in the morning he came again into the temple, and all the people came unto him; and he sat down, and taught them.
3 And the scribes and Pharisees brought unto him a woman taken in adultery; and when they had set her in the midst,
4 They say unto him, Master, this woman was taken in adultery, in the very act.
5 Now Moses in the law commanded us, that such should be stoned: but what sayest thou?
6 This they said, tempting him, that they might have to accuse him. But Jesus stooped down, and with his finger wrote on the ground, as though he heard them not.
7 So when they continued asking him, he lifted up himself, and said unto them, He that is without sin among you, let him first cast a stone at her.
8 And again he stooped down, and wrote on the ground.
9 And they which heard it, being convicted by their own conscience, went out one by one, beginning at the eldest, even unto the last: and Jesus was left alone, and the woman standing in the midst.
10 When Jesus had lifted up himself, and saw none but the woman, he said unto her, Woman, where are those thine accusers? hath no man condemned thee?
11 She said, No man, Lord. And Jesus said unto her, Neither do I condemn thee: go, and sin no more.
In each instant above where Jesus showed His divine forgiveness, He admonished the sinner to ``go, and sin no more''. There are many that think that the forgiveness of Jesus is a license to sin. But in the study of the scripture time and time again forgiveness comes with the admonishment to sin no more. For instance, if someone asks you to forgive them for a wrong, do you expect them to do the same thing again? How can you expect God to except your phony repentance. For the Lord sees your heart and your inner thoughts. He knows when you are trying to fool him. God is not mocked by words with no meaning. God is not deceived by insincere confessions. Repentance means that you are not6 going to continue to sin any more. Repentance means that you are going to change your ways and sin no more.
Romans 6:1-4
1 What shall we say then? Shall we continue in sin, that grace may abound?
2 God forbid. How shall we, that are dead to sin, live any longer therein?
3 Know ye not, that so many of us as were baptized into Jesus Christ were baptized into his death?
4 Therefore we are buried with him by baptism into death: that like as Christ was raised up from the dead by the glory of the Father, even so we also should walk in newness of life.
God's forgiveness means that your life will change and you will go and sin no more.
---
The Full Gospel Church

	3014 E Street
	Philadelphia, PA  19134
	Church Office Phone: (215) 634-3637
	Published by: Rev. LeRoy D. Cressy (215) 535-4037 


	                    Services:

	Sunday School  . . . . . . . . . . . . . .10:30 AM

	Sunday Morning Worship . . . . . . . . . . 12 NOON

	Sunday Evening . . . . . . . . . . . . . . 6:30 PM

	Wednesday Evening  . . . . . . . . . . . . 7:30 PM

    
Last modified: Sun Apr 26 12:45:47 EDT