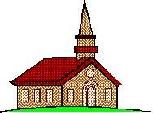 The Full Gospel Church
---

      Vol. II Number 25                       July 5, 1998

      
---
The Fight for American Independence
When I was in college, one of the papers that I had to write was about if we were living during the time of the Revolutionary War, would it be proper for a true born again Christian to fight on the side of the colonists, or would it be wrong according to the precepts laid down in the Bible. There was no right or wrong answer as long as you had the proof from the Bible to back up your stance. Now I ask you the same question, ``Would it be considered proper for a Christian to rebel against the current government?'' Before you answer this question, please take time to consider your answer to the precepts that you learned in the Bible.
There are many who will jump to the conclusion that it would be perfectly proper to join in the revolutionary campaign. Wasn't it preached from the pulpit in St John's Church. For the full text of this famous speech see:

Patrick Henry's Speech, ``Give Me Liberty or Give Me Death''

Though this speech was given from the pulpit of a church, did it make it right for the born again Christian to fight for independence according to the Bible? The answer of this Question is our study tonight. What does the Bible say concerning rebellion? What does the Bible say about concerning allegiance to the current government? These and other questions will be answered tonight.
Titus 3:1-8
1 Put them in mind to be subject to principalities and powers, to obey magistrates, to be ready to every good work,
2 To speak evil of no man, to be no brawlers, but gentle, shewing all meekness unto all men.
3 For we ourselves also were sometimes foolish, disobedient, deceived, serving divers lusts and pleasures, living in malice and envy, hateful, and hating one another.
4 But after that the kindness and love of God our Saviour toward man appeared,
5 Not by works of righteousness which we have done, but according to his mercy he saved us, by the washing of regeneration, and renewing of the Holy Ghost;
6 Which he shed on us abundantly through Jesus Christ our Saviour;
7 That being justified by his grace, we should be made heirs according to the hope of eternal life.
8 This is a faithful saying, and these things I will that thou affirm constantly, that they which have believed in God might be careful to maintain good works. These things are good and profitable unto men.
1 Peter 2:13-20
13 Submit yourselves to every ordinance of man for the Lord's sake: whether it be to the king, as supreme;
14 Or unto governors, as unto them that are sent by him for the punishment of evildoers, and for the praise of them that do well.
15 For so is the will of God, that with well doing ye may put to silence the ignorance of foolish men:
16 As free, and not using your liberty for a cloke of maliciousness, but as the servants of God.
17 Honour all men. Love the brotherhood. Fear God. Honour the king.
18 Servants, be subject to your masters with all fear; not only to the good and gentle, but also to the froward.
19 For this is thankworthy, if a man for conscience toward God endure grief, suffering wrongfully.
20 For what glory is it, if, when ye be buffeted for your faults, ye shall take it patiently? but if, when ye do well, and suffer for it, ye take it patiently, this is acceptable with God.
Luke 20:22-26
22 Is it lawful for us to give tribute unto Caesar, or no?
23 But he perceived their craftiness, and said unto them, Why tempt ye me?
24 Shew me a penny. Whose image and superscription hath it? They answered and said, Caesar's.
25 And he said unto them, Render therefore unto Caesar the things which be Caesar's, and unto God the things which be God's.
26 And they could not take hold of his words before the people: and they marvelled at his answer, and held their peace.
Romans 13
1 Let every soul be subject unto the higher powers. For there is no power but of God: the powers that be are ordained of God.
2 Whosoever therefore resisteth the power, resisteth the ordinance of God: and they that resist shall receive to themselves damnation.
3 For rulers are not a terror to good works, but to the evil. Wilt thou then not be afraid of the power? do that which is good, and thou shalt have praise of the same:
4 For he is the minister of God to thee for good. But if thou do that which is evil, be afraid; for he beareth not the sword in vain: for he is the minister of God, a revenger to execute wrath upon him that doeth evil.
5 Wherefore ye must needs be subject, not only for wrath, but also for conscience sake.
6 For for this cause pay ye tribute also: for they are God's ministers, attending continually upon this very thing.
7 Render therefore to all their dues: tribute to whom tribute is due; custom to whom custom; fear to whom fear; honour to whom honour.
8 Owe no man any thing, but to love one another: for he that loveth another hath fulfilled the law.
Now, in reviewing all of the above scripture, is it lawful for a Christian to openly fight and betray his country? Was it right as members under the crown of England to fight their government? Carefully consider the teachings of Jesus and the Apostle Paul. Remember that Jesus showed us the way first.
---
The Full Gospel Church

	3014 E Street
	Philadelphia, PA  19134
	Church Office Phone: (215) 634-3637
	Published by: Rev. LeRoy D. Cressy (215) 535-4037 


	                    Services:

	Sunday School  . . . . . . . . . . . . . .10:30 AM

	Sunday Morning Worship . . . . . . . . . . 12 NOON

	Sunday Evening . . . . . . . . . . . . . . 6:30 PM

	Wednesday Evening  . . . . . . . . . . . . 7:30 PM

    
Last modified: Sun Jul 5 15:20:07 EDT 1998