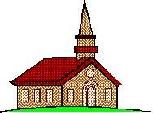 The Full Gospel Church
---

      Vol. II Number 19                       May 24, 1998

      
---
Memorial Building
Tomorrow we are going to celebrate Memorial Day. A day that we set aside to remember our veterans who have died in war. We have built memorials honoring them and have and have given them great honor for the supreme sacrifice that they have made. But, there is another kind of memorial that is far more important to build. And that is a memorial in heaven. Have you built a memorial in heaven?
Matthew 26:7-13
7 There came unto him a woman having an alabaster box of very precious ointment, and poured it on his head, as he sat at meat.
8 But when his disciples saw it, they had indignation, saying, To what purpose is this waste?
9 For this ointment might have been sold for much, and given to the poor.
10 When Jesus understood it, he said unto them, Why trouble ye the woman? for she hath wrought a good work upon me.
11 For ye have the poor always with you; but me ye have not always.
12 For in that she hath poured this ointment on my body, she did it for my burial.
13 Verily I say unto you, Wheresoever this gospel shall be preached in the whole world, there shall also this, that this woman hath done, be told for a memorial of her.
The woman that poured an alabaster box of very precious ointment on the Lord gave all that she had to the Lord Jesus. She was building a memorial in heaven. She held back nothing from the Lord, and served the Lord with all of her heart.
Acts 10:1-4
1 There was a certain man in Caesarea called Cornelius, a centurion of the band called the Italian band,
2 A devout man, and one that feared God with all his house, which gave much alms to the people, and prayed to God alway.
3 He saw in a vision evidently about the ninth hour of the day an angel of God coming in to him, and saying unto him, Cornelius.
4 And when he looked on him, he was afraid, and said, What is it, Lord? And he said unto him, Thy prayers and thine alms are come up for a memorial before God.
Cornelius was a man who didn't even know who the Lord was. He was a captain in the Roman army, an enemy of Israel, a leader of those who were against everything that was not Roman. His position dictated that he worship Caesar as a god. His position dictated that he keep those ``rebellious Jews'' in subjection to Rome. How was it possible for this man to be building a memorial in heaven? It was through his private prayer life, a life he led in secret, a life where he openly went against the wishes, desires, and dictates of his superiors. Here was a man risking everything he had to build a memorial in heaven. If any of his superiors knew that he secretly prayed to a God that was not of Rome, he would be crucified for sedition, aiding and abetting the enemy. How could this man risk so much? What drove this man to pray to a God that he didn't even know?
The Roman government had laws against worshiping ``non Roman gods''. They were in the business of putting people to death who disobeyed their laws.
The Roman government had a view of preserving everything Roman. They felt that the government was all powerful, and the people merely servants of such government. Something like the view of the bureaucrats in Washington today. Look at the view of the government in their case against Microsoft. Their whole argument is that the people cannot choose on their own an operating system. There are alternatives, but as the end user the choice is yours. You can decide if you want to buy Microsoft, or Unix, Linux, or whatever system you desire. But the view of the government is that you are stupid and not capable in making your own decisions. Look at the breakup of ATT, are we better off? The movement that the government is taking is total control of people and the corporations. The governments view is that the government is always right and the people are to be subservient to the government. This attitude is the same attitude that the Roman government during the era of the early Christian church. They only wanted what they thought was good for the government as it stood. Anything that went contrary to that mind set, was deemed ready for destruction.
The Christian church was not the ``norm'' according to the Roman government. They saw the Christians as enemies for they were infringing on their turf for the minds and hearts of men and women. Thus it was against the law to be a Christian or anything that was not sanctioned by the Roman government. Thus when Cornelius, a captain in the Roman Army, was praying to a God not sanctioned by the government, he was guilty of breaking the law. He was risking everything to pray to a God that he didn't even know. He could be brought before the judge and condemned to death for not following the dictates of the law.
This attitude is how memorials are built in heaven. You have to be willing to give your all for the cause of Christ. Anything less will make you not worthy to have a memorial in heaven.
Luke 12:35-59
35 Let your loins be girded about, and your lights burning;
36 And ye yourselves like unto men that wait for their lord, when he will return from the wedding; that when he cometh and knocketh, they may open unto him immediately.
37 Blessed are those servants, whom the lord when he cometh shall find watching: verily I say unto you, that he shall gird himself, and make them to sit down to meat, and will come forth and serve them.
38 And if he shall come in the second watch, or come in the third watch, and find them so, blessed are those servants.
39 And this know, that if the goodman of the house had known what hour the thief would come, he would have watched, and not have suffered his house to be broken through.
40 Be ye therefore ready also: for the Son of man cometh at an hour when ye think not.
41 Then Peter said unto him, Lord, speakest thou this parable unto us, or even to all?
42 And the Lord said, Who then is that faithful and wise steward, whom his lord shall make ruler over his household, to give them their portion of meat in due season?
43 Blessed is that servant, whom his lord when he cometh shall find so doing.
44 Of a truth I say unto you, that he will make him ruler over all that he hath.
45 But and if that servant say in his heart, My lord delayeth his coming; and shall begin to beat the menservants and maidens, and to eat and drink, and to be drunken;
46 The lord of that servant will come in a day when he looketh not for him, and at an hour when he is not aware, and will cut him in sunder, and will appoint him his portion with the unbelievers.
47 And that servant, which knew his lord's will, and prepared not himself, neither did according to his will, shall be beaten with many stripes.
48 But he that knew not, and did commit things worthy of stripes, shall be beaten with few stripes. For unto whomsoever much is given, of him shall be much required: and to whom men have committed much, of him they will ask the more.
49 I am come to send fire on the earth; and what will I, if it be already kindled?
50 But I have a baptism to be baptized with; and how am I straitened till it be accomplished!
51 Suppose ye that I am come to give peace on earth? I tell you, Nay; but rather division:
52 For from henceforth there shall be five in one house divided, three against two, and two against three.
53 The father shall be divided against the son, and the son against the father; the mother against the daughter, and the daughter against the mother; the mother in law against her daughter in law, and the daughter in law against her mother in law.
54 And he said also to the people, When ye see a cloud rise out of the west, straightway ye say, There cometh a shower; and so it is.
55 And when ye see the south wind blow, ye say, There will be heat; and it cometh to pass.
56 Ye hypocrites, ye can discern the face of the sky and of the earth; but how is it that ye do not discern this time?
57 Yea, and why even of yourselves judge ye not what is right?
58 When thou goest with thine adversary to the magistrate, as thou art in the way, give diligence that thou mayest be delivered from him; lest he hale thee to the judge, and the judge deliver thee to the officer, and the officer cast thee into prison.
59 I tell thee, thou shalt not depart thence, till thou hast paid the very last mite.
Look at the outcome of those who know the truth, but do not give their all to the Lord. The ones who sit on their lees and are slack concerning the Lord. The ones who are neither hot or cold for the Lord. Look how the Lord spits them out.
Revelation 3:14-22
14 And unto the angel of the church of the Laodiceans write; These things saith the Amen, the faithful and true witness, the beginning of the creation of God;
15 I know thy works, that thou art neither cold nor hot: I would thou wert cold or hot.
16 So then because thou art lukewarm, and neither cold nor hot, I will spue thee out of my mouth.
17 Because thou sayest, I am rich, and increased with goods, and have need of nothing; and knowest not that thou art wretched, and miserable, and poor, and blind, and naked:
18 I counsel thee to buy of me gold tried in the fire, that thou mayest be rich; and white raiment, that thou mayest be clothed, and that the shame of thy nakedness do not appear; and anoint thine eyes with eyesalve, that thou mayest see.
19 As many as I love, I rebuke and chasten: be zealous therefore, and repent.
20 Behold, I stand at the door, and knock: if any man hear my voice, and open the door, I will come in to him, and will sup with him, and he with me.
21 To him that overcometh will I grant to sit with me in my throne, even as I also overcame, and am set down with my Father in his throne.
22 He that hath an ear, let him hear what the Spirit saith unto the churches.
The principle is that if you are not building a memorial in heaven, then you are going to find yourself on the outside looking in. You will find yourself wondering why you have not made it to heaven. You will find yourself in a lake of fire receiving many stripes for being unworthy. Are you building a memorial that will stand in heaven? Or are you lax concerning the things of God? Do you desire a stronger relationship with the Lord Jesus Christ? Now is the time to give a total commitment to the Lord Jesus. Now is the time to seek the Lord with all of your heart. Are you willing to take the same risk that Cornelius took? Are you willing to risk condemnation by the state, your family and your friends for the cause of Christianity? Or are you going to be like the one who wanted to bury his father before committing to the Lord? Or, are you like the ones in the Laodicean church, resting on your laurels and thinking that all is well? If this is your condition, now is the time to repent and come join the Lord's army. Now is the time to build your own memorial in heaven
---
The Full Gospel Church

	3014 E Street
	Philadelphia, PA  19134
	Church Office Phone: (215) 634-3637
	Published by: Rev. LeRoy D. Cressy (215) 535-4037 


	                    Services:

	Sunday School  . . . . . . . . . . . . . .10:30 AM

	Sunday Morning Worship . . . . . . . . . . 12 NOON

	Sunday Evening . . . . . . . . . . . . . . 6:30 PM

	Wednesday Evening  . . . . . . . . . . . . 7:30 PM

    
Last modified: Sun May 24 10:06:20 EDT 1998