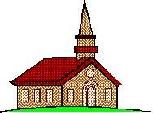 The Full Gospel Church
---

      Vol. II Number 16                       May 3, 1998

      
---
The Wickedness Permeating Society
Last night Rita and I were walking around the neighborhood when some young teenagers asked us if we would run if they attacked us with astronomicala baseball bat. Of course I replied ``No!'', which caused them to reply that I am crazy. In today's society, there is an ever increasing display of contempt for what is good and honorable. Drug use seems to be on the increase, promiscuity is on the increase, and every imaginable wickedness is increasing. Many are moving out of the cities to the suburbs only to find that their flight from the wicked is futile. In some of the most prestigious suburban communities, there has been a recent wave of burglaries. Some neighborhoods are reporting that 95% of the homes and business have been hit recently. What is the cause of this moral decay that we are witnessing? Are these the signs of the last days?
The Bible tells us that the last days will be like the days of Sodom and Gomorrah. A time where wickedness spawns and increases to proportions. We are witnessing this increase today.
Luke 17:21-30
21 Neither shall they say, Lo here! or, lo there! for, behold, the kingdom of God is within you.
22 And he said unto the disciples, The days will come, when ye shall desire to see one of the days of the Son of man, and ye shall not see it.
23 And they shall say to you, See here; or, see there: go not after them, nor follow them.
24 For as the lightning, that lighteneth out of the one part under heaven, shineth unto the other part under heaven; so shall also the Son of man be in his day.
25 But first must he suffer many things, and be rejected of this generation.
26 And as it was in the days of Noe, so shall it be also in the days of the Son of man.
27 They did eat, they drank, they married wives, they were given in marriage, until the day that Noe entered into the ark, and the flood came, and destroyed them all.
28 Likewise also as it was in the days of Lot; they did eat, they drank, they bought, they sold, they planted, they builded;
29 But the same day that Lot went out of Sodom it rained fire and brimstone from heaven, and destroyed them all.
30 Even thus shall it be in the day when the Son of man is revealed.
Even Isaiah described the condition of Israel during his time as Sodom. How much more so today would that description be appropriate for all of the countries that consider themselves to be ``Christian.'' We are living in a day when evil and debauchery is considered good just like it was in the days of Lot.
Isaiah 1:1-10
1 The vision of Isaiah the son of Amoz, which he saw concerning Judah and Jerusalem in the days of Uzziah, Jotham, Ahaz, and Hezekiah, kings of Judah.
2 Hear, O heavens, and give ear, O earth: for the LORD hath spoken, I have nourished and brought up children, and they have rebelled against me.
3 The ox knoweth his owner, and the ass his master's crib: but Israel doth not know, my people doth not consider.
4 Ah sinful nation, a people laden with iniquity, a seed of evildoers, children that are corrupters: they have forsaken the LORD, they have provoked the Holy One of Israel unto anger, they are gone away backward.
5 Why should ye be stricken any more? ye will revolt more and more: the whole head is sick, and the whole heart faint.
6 From the sole of the foot even unto the head there is no soundness in it; but wounds, and bruises, and putrifying sores: they have not been closed, neither bound up, neither mollified with ointment.
7 Your country is desolate, your cities are burned with fire: your land, strangers devour it in your presence, and it is desolate, as overthrown by strangers.
8 And the daughter of Zion is left as a cottage in a vineyard, as a lodge in a garden of cucumbers, as a besieged city.
9 Except the LORD of hosts had left unto us a very small remnant, we should have been as Sodom, and we should have been like unto Gomorrah.
10 Hear the word of the LORD, ye rulers of Sodom; give ear unto the law of our God, ye people of Gomorrah.
Look at the people that are living in sin how they react to someone telling them that their sin is wrong. They react, saying that we are not to judge them and their actions. They say that we are to turn the other cheek. They desire to wallow in their sin while condemning all righteousness!
Genesis 19:1-13
1 And there came two angels to Sodom at even; and Lot sat in the gate of Sodom: and Lot seeing them rose up to meet them; and he bowed himself with his face toward the ground;
2 And he said, Behold now, my lords, turn in, I pray you, into your servant's house, and tarry all night, and wash your feet, and ye shall rise up early, and go on your ways. And they said, Nay; but we will abide in the street all night.
3 And he pressed upon them greatly; and they turned in unto him, and entered into his house; and he made them a feast, and did bake unleavened bread, and they did eat.
4 But before they lay down, the men of the city, even the men of Sodom, compassed the house round, both old and young, all the people from every quarter:
5 And they called unto Lot, and said unto him, Where are the men which came in to thee this night? bring them out unto us, that we may know them.
6 And Lot went out at the door unto them, and shut the door after him,
7 And said, I pray you, brethren, do not so wickedly.
8 Behold now, I have two daughters which have not known man; let me, I pray you, bring them out unto you, and do ye to them as is good in your eyes: only unto these men do nothing; for therefore came they under the shadow of my roof.
9 And they said, Stand back. And they said again, This one fellow came in to sojourn, and he will needs be a judge: now will we deal worse with thee, than with them. And they pressed sore upon the man, even Lot, and came near to break the door.
10 But the men put forth their hand, and pulled Lot into the house to them, and shut to the door.
11 And they smote the men that were at the door of the house with blindness, both small and great: so that they wearied themselves to find the door.
12 And the men said unto Lot, Hast thou here any besides? son in law, and thy sons, and thy daughters, and whatsoever thou hast in the city, bring them out of this place:
13 For we will destroy this place, because the cry of them is waxen great before the face of the LORD; and the LORD hath sent us to destroy it.
The wickedness that permeated Sodom and Gomorrah is here today! The vanity of man thinking that his evil is ``good'', is present today! We are definitely living in the days that Jesus spoke about, times being the same as in the days of Lot. As the wickedness increases, we draw closer to the rapture of the church and our redemption.
---
The Full Gospel Church

	3014 E Street
	Philadelphia, PA  19134
	Church Office Phone: (215) 634-3637
	Published by: Rev. LeRoy D. Cressy (215) 535-4037 


	                    Services:

	Sunday School  . . . . . . . . . . . . . .10:30 AM

	Sunday Morning Worship . . . . . . . . . . 12 NOON

	Sunday Evening . . . . . . . . . . . . . . 6:30 PM

	Wednesday Evening  . . . . . . . . . . . . 7:30 PM

    
Last modified: Sun May 3 12:44:24 EDT 1998