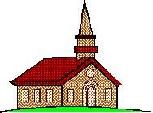 The Full Gospel Church


Vol. III Number 7 February 21, 1999

Jesus; The Same Yesterday, Today, and Forever
Jesus is the same all of the time. He isn't on my side or any country's side. Jesus is on the Lord's side, and we are to be on his divine side.
Hebrews 13:1-8
1 Let brotherly love continue.
2 Be not forgetful to entertain strangers: for thereby some have entertained angels unawares.
3 Remember them that are in bonds, as bound with them; and them which suffer adversity, as being yourselves also in the body.
4 Marriage is honourable in all, and the bed undefiled: but whoremongers and adulterers God will judge.
5 Let your conversation be without covetousness; and be content with such things as ye have: for he hath said, I will never leave thee, nor forsake thee.
6 So that we may boldly say, The Lord is my helper, and I will not fear what man shall do unto me.
7 Remember them which have the rule over you, who have spoken unto you the word of God: whose faith follow, considering the end of their conversation.
8 Jesus Christ the same yesterday, and to day, and for ever.
This past week Irv Homer was asking who you would vote for. He gave a choice between three candidates without revealing their names. He just gave some of their platform and known habits. You had a choice of either A B or C.
Candidate A:

Drinks
Has illicit affairs
Never Served in the Military

Candidate B:

Wakes up after 11AM every day
Drinks 10 Martinis a day
Did Cocaine in college
Heavy Smoker

Candidate C:

War Hero
Doesn't smoke
No hidden illicit Affairs
Only drinks an occasional beer
From the above list, who would you vote for? Candidate A:, Candidate B: or Candidate C:? If you voted for candidate A: you would have chosen Franklin Roosevelt. Candidate B: was Winston Churchill. But who is that nice Candidate C:? Doesn't he sound like the best leader of a country? Here is a man who is a war hero, has served his country well, a non smoker or drinker, and seems to have an impeccable record. Who is this wonderful candidate? How many in the Christian community would vote for him? He seems like the ideal candidate.
If you chose Candidate C:, you just voted for Adolf Hitler! There are many that seem to have good Christian leanings, but in reality are the total opposite of being Christ like. They may look good and be very appealing, but in reality are raving wolves seeking to devour whoever they can.
This is why the Bible stipulates that Jesus is always the same. He is unmoveable and undeceivable, whereas many Christians can be deceived and often are by wicked people who look good to them. That is why it so imperative to seek the council of the Lord in everything. There were many Christian Germans who thought that Adolf Hitler was a good Christian who promised that he would wage a war on crime. His opponents couldn't find any hidden ghosts in his closet. He had an impeccable record. His military record was above reproach. He had good charisma and a winning persona. Many Christians thought that he was a good choice for he fit what they thought a Christian candidate should be. But as history shows they were in for a big downfall. This man proved to be worse than all of the other candidates at the time he was first elected.
Psalms 1:1-6
1 Blessed is the man that walketh not in the counsel of the ungodly, nor standeth in the way of sinners, nor sitteth in the seat of the scornful.
2 But his delight is in the law of the LORD; and in his law doth he meditate day and night.
3 And he shall be like a tree planted by the rivers of water, that bringeth forth his fruit in his season; his leaf also shall not wither; and whatsoever he doeth shall prosper.
4 The ungodly are not so: but are like the chaff which the wind driveth away.
5 Therefore the ungodly shall not stand in the judgment, nor sinners in the congregation of the righteous.
6 For the LORD knoweth the way of the righteous: but the way of the ungodly shall perish.
Where men may look good, Jesus knows who are wicked and who are righteous. He differentiates between the righteous and the unrighteous. He cannot be swayed by good looks and persona. Jesus sees the inner thoughts and intents of the heart. Jesus differentiates between the true repentant Christian and the one who is only paying lip service. Take for example Bill Clinton who adamantly denied any wrong doing before the Congress, and immediately after his impeachment trial he tells the people that he is sorry for his behavior. Is this man's repentance real? How can he say one thing to one group and tell another group the opposite?
These people who deceive people will try the same tactic that has worked time and time again for them in the past. They will question the Lord about all of their good works and how righteous they are. They will attempt to deceive the very creator of the universe!
Matthew 721-23
21 Not every one that saith unto me, Lord, Lord, shall enter into the kingdom of heaven; but he that doeth the will of my Father which is in heaven.
22 Many will say to me in that day, Lord, Lord, have we not prophesied in thy name? and in thy name have cast out devils? and in thy name done many wonderful works?
23 And then will I profess unto them, I never knew you: depart from me, ye that work iniquity.
For this very reason I am glad that Jesus is unmoveable and the same always. He cannot be deceived, cajoled, connived or anything else imaginable. Jesus isn't on anyone's side, but we are to be on his divine side doing the work of the Father which is in heaven.

The Full Gospel Church

	3014 E Street
	Philadelphia, PA  19134
	Church Office Phone: (215) 634-3637
	Published by: Rev. LeRoy D. Cressy (215) 535-4037 


	                    Services:

	Sunday School  . . . . . . . . . . . . . .10:30 AM

	Sunday Morning Worship . . . . . . . . . . 12 NOON

	Sunday Evening . . . . . . . . . . . . . . 6:30 PM

	Wednesday Evening  . . . . . . . . . . . . 7:30 PM

    
Last modified: Sun Feb 21 12:31:47 EST 1999