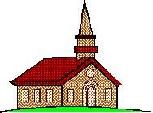 The Full Gospel Church


Vol. III Number 13 April 4, 1999

Easter Sunday
Praise the Lord
Another Easter has come and there are still wars and rumors of war. This past week there has been talk about the Serbs and the Pope getting together to end the present conflict at hand. But as you know, before the second coming of Christ the world will go through perilous times. Men will be lovers of pleasure rather than lovers of God. As you heard me preach and write about in the past, you know that I believe that the U.S. and Canada is the end time Babylonian nation. (Jeremiah 50 and 51, Revelation 18) All three of these chapters talk about the end time Babylonian nation. Also there is a reference that the end time Babylonian nation is across the sea from Israel and Jerusalem. Also the end time Babylonian is an extremely rich nation that buys stuff from all over the world. This end time Babylonian nation will be destroyed in a day. Just this past week the Russians have been moving around their Nuclear missiles and sent war ships to the Aegean Sea. All of these actions make me extremely wary about the day and the hour that we are living in.
for today's sermon, I will dwell on being prepared for the coming of the Lord Jesus. The day and the hour of his calling the church home is at hand. We are living in the time where technology has finally caught up with the Bible prophecies. The world is totally connected by the Internet. The Internet has both a wealth of good and evil information. If you desire, you can even find the methods on how to make a nuclear device. While congress wrestles over the pornography on the Internet there are items of far greater reach on the Internet. Our very existence as a nation can be wiped out in a day by someone grabbing this deadly information and using it against the U.S. and Canada.
So we are living in the time that the Bible speaks about.
Luke 21:8-28
8 And he said, Take heed that ye be not deceived: for many shall come in my name, saying, I am Christ; and the time draweth near: go ye not therefore after them.
9 But when ye shall hear of wars and commotions, be not terrified: for these things must first come to pass; but the end is not by and by.
10 Then said he unto them, Nation shall rise against nation, and kingdom against kingdom:
11 And great earthquakes shall be in divers places, and famines, and pestilences; and fearful sights and great signs shall there be from heaven.
12 But before all these, they shall lay their hands on you, and persecute you, delivering you up to the synagogues, and into prisons, being brought before kings and rulers for my name's sake.
13 And it shall turn to you for a testimony.
14 Settle it therefore in your hearts, not to meditate before what ye shall answer:
15 For I will give you a mouth and wisdom, which all your adversaries shall not be able to gainsay nor resist.
16 And ye shall be betrayed both by parents, and brethren, and kinsfolks, and friends; and some of you shall they cause to be put to death.
17 And ye shall be hated of all men for my name's sake.
18 But there shall not an hair of your head perish.
19 In your patience possess ye your souls.
20 And when ye shall see Jerusalem compassed with armies, then know that the desolation thereof is nigh.
21 Then let them which are in Judaea flee to the mountains; and let them which are in the midst of it depart out; and let not them that are in the countries enter thereinto.
22 For these be the days of vengeance, that all things which are written may be fulfilled.
23 But woe unto them that are with child, and to them that give suck, in those days! for there shall be great distress in the land, and wrath upon this people.
24 And they shall fall by the edge of the sword, and shall be led away captive into all nations: and Jerusalem shall be trodden down of the Gentiles, until the times of the Gentiles be fulfilled.
25 And there shall be signs in the sun, and in the moon, and in the stars; and upon the earth distress of nations, with perplexity; the sea and the waves roaring;
26 Men's hearts failing them for fear, and for looking after those things which are coming on the earth: for the powers of heaven shall be shaken.
27 And then shall they see the Son of man coming in a cloud with power and great glory.
28 And when these things begin to come to pass, then look up, and lift up your heads; for your redemption draweth nigh.
With the coming of the Lord so close at hand many have grown cold in the faith. Churches are emptying out with many closing their doors. Here is a site that describes all of the genocide that is going on around the world. This covers Christians being executed for their faith!
2 Timothy 3:1-5
1 This know also, that in the last days perilous times shall come.
2 For men shall be lovers of their own selves, covetous, boasters, proud, blasphemers, disobedient to parents, unthankful, unholy,
3 Without natural affection, trucebreakers, false accusers, incontinent, fierce, despisers of those that are good,
4 Traitors, heady, highminded, lovers of pleasures more than lovers of God;
5 Having a form of godliness, but denying the power thereof: from such turn away.
Jesus promised that he was going to come back when all of the above signs have come to pass. We are living in the day when the Lord can come back today! Jesus could call his church home today and it would be the right time. If the trumpet of the Lord sounded today, would you rise to meet the Lord in the air? If the call for all real Christians to meet the Lord came today, where would you be? Still going about your business? Still doing whatever? Or would you be attune to the call and rise to meet the Lord in the air? The day and the hour of Christ's appearing in the clouds is soon at hand. Now is the hour to make your calling and election sure. Now id the time to make your whole heart right with God. Now is the time to seek the Lord with all of your heart and make your election sure!
2 Peter 1:1-10
1 Simon Peter, a servant and an apostle of Jesus Christ, to them that have obtained like precious faith with us through the righteousness of God and our Saviour Jesus Christ:
2 Grace and peace be multiplied unto you through the knowledge of God, and of Jesus our Lord,
3 According as his divine power hath given unto us all things that pertain unto life and godliness, through the knowledge of him that hath called us to glory and virtue:
4 Whereby are given unto us exceeding great and precious promises: that by these ye might be partakers of the divine nature, having escaped the corruption that is in the world through lust.
5 And beside this, giving all diligence, add to your faith virtue; and to virtue knowledge;
6 And to knowledge temperance; and to temperance patience; and to patience godliness;
7 And to godliness brotherly kindness; and to brotherly kindness charity.
8 For if these things be in you, and abound, they make you that ye shall neither be barren nor unfruitful in the knowledge of our Lord Jesus Christ.
9 But he that lacketh these things is blind, and cannot see afar off, and hath forgotten that he was purged from his old sins.
10 Wherefore the rather, brethren, give diligence to make your calling and election sure: for if ye do these things, ye shall never fall:
If Jesus made that last trumpet call today, where would you reside? If there is the slightest doubt that you will miss the call, NOW is the time to come to HIM and ask the LORD Jesus to make your life right. NOW is the time to repent of any hindrance that might keep you from rising to meet the Lord in the air. NOW is the time to seek the Lord with your whole heart!

The Full Gospel Church

	3014 E Street
	Philadelphia, PA  19134
	Church Office Phone: (215) 634-3637
	Published by: Rev. LeRoy D. Cressy (215) 535-4037 


	                    Services:

	Sunday School  . . . . . . . . . . . . . .10:30 AM

	Sunday Morning Worship . . . . . . . . . . 12 NOON

	Sunday Evening . . . . . . . . . . . . . . 6:30 PM

	Wednesday Evening  . . . . . . . . . . . . 7:30 PM

    
Last modified: Sun Apr 4 13:30:56 EDT 1999