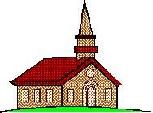 The Full Gospel Church


Vol. III Number 17 May 2, 1999

Don't Let Go
There are many who teach the erroneous teaching that once you are saved, you are always saved. This teaching has caused many to live in sin and still believe that they are saved. This wicked teaching, which comes from the very pits of hell, has caused many to live a life filled with sin while sincerely believing that they are on the road to heaven.
But the Bible clearly teaches that heaven and the Lord's rest is reserved for those who hold fast to the teachings of the Bible and continue in the grace and righteousness of the Lord Jesus. Those who hold fast to the end shall be saved, not those who make just a start and fall away.
Jude 1:1-25
1 Jude, the servant of Jesus Christ, and brother of James, to them that are sanctified by God the Father, and preserved in Jesus Christ, and called:
2 Mercy unto you, and peace, and love, be multiplied.
3 Beloved, when I gave all diligence to write unto you of the common salvation, it was needful for me to write unto you, and exhort you that ye should earnestly contend for the faith which was once delivered unto the saints.
4 For there are certain men crept in unawares, who were before of old ordained to this condemnation, ungodly men, turning the grace of our God into lasciviousness, and denying the only Lord God, and our Lord Jesus Christ.
5 I will therefore put you in remembrance, though ye once knew this, how that the Lord, having saved the people out of the land of Egypt, afterward destroyed them that believed not.
6 And the angels which kept not their first estate, but left their own habitation, he hath reserved in everlasting chains under darkness unto the judgment of the great day.
7 Even as Sodom and Gomorrha, and the cities about them in like manner, giving themselves over to fornication, and going after strange flesh, are set forth for an example, suffering the vengeance of eternal fire.
8 Likewise also these filthy dreamers defile the flesh, despise dominion, and speak evil of dignities.
9 Yet Michael the archangel, when contending with the devil he disputed about the body of Moses, durst not bring against him a railing accusation, but said, The Lord rebuke thee.
10 But these speak evil of those things which they know not: but what they know naturally, as brute beasts, in those things they corrupt themselves.
11 Woe unto them! for they have gone in the way of Cain, and ran greedily after the error of Balaam for reward, and perished in the gainsaying of Core.
12 These are spots in your feasts of charity, when they feast with you, feeding themselves without fear: clouds they are without water, carried about of winds; trees whose fruit withereth, without fruit, twice dead, plucked up by the roots;
13 Raging waves of the sea, foaming out their own shame; wandering stars, to whom is reserved the blackness of darkness for ever.
14 And Enoch also, the seventh from Adam, prophesied of these, saying, Behold, the Lord cometh with ten thousands of his saints,
15 To execute judgment upon all, and to convince all that are ungodly among them of all their ungodly deeds which they have ungodly committed, and of all their hard speeches which ungodly sinners have spoken against him.
16 These are murmurers, complainers, walking after their own lusts; and their mouth speaketh great swelling words, having men's persons in admiration because of advantage.
17 But, beloved, remember ye the words which were spoken before of the apostles of our Lord Jesus Christ;
18 How that they told you there should be mockers in the last time, who should walk after their own ungodly lusts.
19 These be they who separate themselves, sensual, having not the Spirit.
20 But ye, beloved, building up yourselves on your most holy faith, praying in the Holy Ghost,
21 Keep yourselves in the love of God, looking for the mercy of our Lord Jesus Christ unto eternal life.
22 And of some have compassion, making a difference:
23 And others save with fear, pulling them out of the fire; hating even the garment spotted by the flesh.
24 Now unto him that is able to keep you from falling, and to present you faultless before the presence of his glory with exceeding joy,
25 To the only wise God our Saviour, be glory and majesty, dominion and power, both now and ever. Amen.
Hebrews 3:1-19
1 Wherefore, holy brethren, partakers of the heavenly calling, consider the Apostle and High Priest of our profession, Christ Jesus;
2 Who was faithful to him that appointed him, as also Moses was faithful in all his house.
3 For this man was counted worthy of more glory than Moses, inasmuch as he who hath builded the house hath more honour than the house.
4 For every house is builded by some man; but he that built all things is God.
5 And Moses verily was faithful in all his house, as a servant, for a testimony of those things which were to be spoken after;
6 But Christ as a son over his own house; whose house are we, if we hold fast the confidence and the rejoicing of the hope firm unto the end.
7 Wherefore (as the Holy Ghost saith, To day if ye will hear his voice,
8 Harden not your hearts, as in the provocation, in the day of temptation in the wilderness:
9 When your fathers tempted me, proved me, and saw my works forty years.
10 Wherefore I was grieved with that generation, and said, They do alway err in their heart; and they have not known my ways.
11 So I sware in my wrath, They shall not enter into my rest.)
12 Take heed, brethren, lest there be in any of you an evil heart of unbelief, in departing from the living God.
13 But exhort one another daily, while it is called To day; lest any of you be hardened through the deceitfulness of sin.
14 For we are made partakers of Christ, if we hold the beginning of our confidence stedfast unto the end;
15 While it is said, To day if ye will hear his voice, harden not your hearts, as in the provocation.
16 For some, when they had heard, did provoke: howbeit not all that came out of Egypt by Moses.
17 But with whom was he grieved forty years? was it not with them that had sinned, whose carcases fell in the wilderness?
18 And to whom sware he that they should not enter into his rest, but to them that believed not?
19 So we see that they could not enter in because of unbelief.
Hebrews 4:1-16
1 Let us therefore fear, lest, a promise being left us of entering into his rest, any of you should seem to come short of it.
2 For unto us was the gospel preached, as well as unto them: but the word preached did not profit them, not being mixed with faith in them that heard it.
3 For we which have believed do enter into rest, as he said, As I have sworn in my wrath, if they shall enter into my rest: although the works were finished from the foundation of the world.
4 For he spake in a certain place of the seventh day on this wise, And God did rest the seventh day from all his works.
5 And in this place again, If they shall enter into my rest.
6 Seeing therefore it remaineth that some must enter therein, and they to whom it was first preached entered not in because of unbelief:
7 Again, he limiteth a certain day, saying in David, To day, after so long a time; as it is said, To day if ye will hear his voice, harden not your hearts.
8 For if Jesus had given them rest, then would he not afterward have spoken of another day.
9 There remaineth therefore a rest to the people of God.
10 For he that is entered into his rest, he also hath ceased from his own works, as God did from his.
11 Let us labour therefore to enter into that rest, lest any man fall after the same example of unbelief.
12 For the word of God is quick, and powerful, and sharper than any twoedged sword, piercing even to the dividing asunder of soul and spirit, and of the joints and marrow, and is a discerner of the thoughts and intents of the heart.
13 Neither is there any creature that is not manifest in his sight: but all things are naked and opened unto the eyes of him with whom we have to do.
14 Seeing then that we have a great high priest, that is passed into the heavens, Jesus the Son of God, let us hold fast our profession.
15 For we have not an high priest which cannot be touched with the feeling of our infirmities; but was in all points tempted like as we are, yet without sin.
16 Let us therefore come boldly unto the throne of grace, that we may obtain mercy, and find grace to help in time of need.
Hebrews 10:16-39
16 This is the covenant that I will make with them after those days, saith the Lord, I will put my laws into their hearts, and in their minds will I write them;
17 And their sins and iniquities will I remember no more.
18 Now where remission of these is, there is no more offering for sin.
19 Having therefore, brethren, boldness to enter into the holiest by the blood of Jesus,
20 By a new and living way, which he hath consecrated for us, through the veil, that is to say, his flesh;
21 And having an high priest over the house of God;
22 Let us draw near with a true heart in full assurance of faith, having our hearts sprinkled from an evil conscience, and our bodies washed with pure water.
23 Let us hold fast the profession of our faith without wavering; (for he is faithful that promised;)
24 And let us consider one another to provoke unto love and to good works:
25 Not forsaking the assembling of ourselves together, as the manner of some is; but exhorting one another: and so much the more, as ye see the day approaching.
26 For if we sin wilfully after that we have received the knowledge of the truth, there remaineth no more sacrifice for sins,
27 But a certain fearful looking for of judgment and fiery indignation, which shall devour the adversaries.
28 He that despised Moses' law died without mercy under two or three witnesses:
29 Of how much sorer punishment, suppose ye, shall he be thought worthy, who hath trodden under foot the Son of God, and hath counted the blood of the covenant, wherewith he was sanctified, an unholy thing, and hath done despite unto the Spirit of grace?
30 For we know him that hath said, Vengeance belongeth unto me, I will recompense, saith the Lord. And again, The Lord shall judge his people.
31 It is a fearful thing to fall into the hands of the living God.
32 But call to remembrance the former days, in which, after ye were illuminated, ye endured a great fight of afflictions;
33 Partly, whilst ye were made a gazingstock both by reproaches and afflictions; and partly, whilst ye became companions of them that were so used.
34 For ye had compassion of me in my bonds, and took joyfully the spoiling of your goods, knowing in yourselves that ye have in heaven a better and an enduring substance.
35 Cast not away therefore your confidence, which hath great recompence of reward.
36 For ye have need of patience, that, after ye have done the will of God, ye might receive the promise.
37 For yet a little while, and he that shall come will come, and will not tarry.
38 Now the just shall live by faith: but if any man draw back, my soul shall have no pleasure in him.
39 But we are not of them who draw back unto perdition; but of them that believe to the saving of the soul.
Revelation 2:24-29
24 But unto you I say, and unto the rest in Thyatira, as many as have not this doctrine, and which have not known the depths of Satan, as they speak; I will put upon you none other burden.
25 But that which ye have already hold fast till I come.
26 And he that overcometh, and keepeth my works unto the end, to him will I give power over the nations:
27 And he shall rule them with a rod of iron; as the vessels of a potter shall they be broken to shivers: even as I received of my Father.
28 And I will give him the morning star.
29 He that hath an ear, let him hear what the Spirit saith unto the churches.
Revelation 3:1-6
1 And unto the angel of the church in Sardis write; These things saith he that hath the seven Spirits of God, and the seven stars; I know thy works, that thou hast a name that thou livest, and art dead.
2 Be watchful, and strengthen the things which remain, that are ready to die: for I have not found thy works perfect before God.
3 Remember therefore how thou hast received and heard, and hold fast, and repent. If therefore thou shalt not watch, I will come on thee as a thief, and thou shalt not know what hour I will come upon thee.
4 Thou hast a few names even in Sardis which have not defiled their garments; and they shall walk with me in white: for they are worthy.
5 He that overcometh, the same shall be clothed in white raiment; and I will not blot out his name out of the book of life, but I will confess his name before my Father, and before his angels.
6 He that hath an ear, let him hear what the Spirit saith unto the churches.
Mark 13:13
13 And ye shall be hated of all men for my name's sake: but he that shall endure unto the end, the same shall be saved.
Revelation 21:1-8
1 And I saw a new heaven and a new earth: for the first heaven and the first earth were passed away; and there was no more sea.
2 And I John saw the holy city, new Jerusalem, coming down from God out of heaven, prepared as a bride adorned for her husband.
3 And I heard a great voice out of heaven saying, Behold, the tabernacle of God is with men, and he will dwell with them, and they shall be his people, and God himself shall be with them, and be their God.
4 And God shall wipe away all tears from their eyes; and there shall be no more death, neither sorrow, nor crying, neither shall there be any more pain: for the former things are passed away.
5 And he that sat upon the throne said, Behold, I make all things new. And he said unto me, Write: for these words are true and faithful.
6 And he said unto me, It is done. I am Alpha and Omega, the beginning and the end. I will give unto him that is athirst of the fountain of the water of life freely.
7 He that overcometh shall inherit all things; and I will be his God, and he shall be my son.
8 But the fearful, and unbelieving, and the abominable, and murderers, and whoremongers, and sorcerers, and idolaters, and all liars, shall have their part in the lake which burneth with fire and brimstone: which is the second death.
There are many who like to believe that Christianity gives them a license to live in sin, but as we have seen from the above scriptures, clearly the ones who hold fast to the truth and righteousness of Jesus Christ will be saved. There are many who start out and repent, and they start living a life for Jesus, but the cares of the life and the temptations of the world draw them away to their former life. These have the Lord reserved for judgment. Look at the parable of the sower and the seed:
Matthew 3:13-23
3 And he spake many things unto them in parables, saying, Behold, a sower went forth to sow;
4 And when he sowed, some seeds fell by the way side, and the fowls came and devoured them up:
5 Some fell upon stony places, where they had not much earth: and forthwith they sprung up, because they had no deepness of earth:
6 And when the sun was up, they were scorched; and because they had no root, they withered away.
7 And some fell among thorns; and the thorns sprung up, and choked them:
8 But other fell into good ground, and brought forth fruit, some an hundredfold, some sixtyfold, some thirtyfold.
9 Who hath ears to hear, let him hear.
10 And the disciples came, and said unto him, Why speakest thou unto them in parables?
11 He answered and said unto them, Because it is given unto you to know the mysteries of the kingdom of heaven, but to them it is not given.
12 For whosoever hath, to him shall be given, and he shall have more abundance: but whosoever hath not, from him shall be taken away even that he hath.
13 Therefore speak I to them in parables: because they seeing see not; and hearing they hear not, neither do they understand.
14 And in them is fulfilled the prophecy of Esaias, which saith, By hearing ye shall hear, and shall not understand; and seeing ye shall see, and shall not perceive:
15 For this people's heart is waxed gross, and their ears are dull of hearing, and their eyes they have closed; lest at any time they should see with their eyes and hear with their ears, and should understand with their heart, and should be converted, and I should heal them.
16 But blessed are your eyes, for they see: and your ears, for they hear.
17 For verily I say unto you, That many prophets and righteous men have desired to see those things which ye see, and have not seen them; and to hear those things which ye hear, and have not heard them.
18 Hear ye therefore the parable of the sower.
19 When any one heareth the word of the kingdom, and understandeth it not, then cometh the wicked one, and catcheth away that which was sown in his heart. This is he which received seed by the way side.
20 But he that received the seed into stony places, the same is he that heareth the word, and anon with joy receiveth it;
21 Yet hath he not root in himself, but dureth for a while: for when tribulation or persecution ariseth because of the word, by and by he is offended.
22 He also that received seed among the thorns is he that heareth the word; and the care of this world, and the deceitfulness of riches, choke the word, and he becometh unfruitful.
23 But he that received seed into the good ground is he that heareth the word, and understandeth it; which also beareth fruit, and bringeth forth, some an hundredfold, some sixty, some thirty.
See how the deceitfulness of this life, the cares of the world, temptations and the such have caused many to fall into perdition, though they have known and accepted the truth in the past. It is the good and faithful servant who will be saved, not the one who has started and made a profession of faith.

The Full Gospel Church

	3014 E Street
	Philadelphia, PA  19134
	Church Office Phone: (215) 634-3637
	Published by: Rev. LeRoy D. Cressy (215) 535-4037 


	                    Services:

	Sunday School  . . . . . . . . . . . . . .10:30 AM

	Sunday Morning Worship . . . . . . . . . . 12 NOON

	Sunday Evening . . . . . . . . . . . . . . 6:30 PM

	Wednesday Evening  . . . . . . . . . . . . 7:30 PM

    
Last modified: Sun May 2 13:23:22 EDT 1999