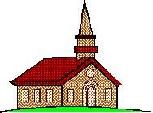 The Full Gospel Church


Vol. III Number 20 May 23, 1999

Jesus, The Way
In the day where we hear about high school students packing guns and various weapons to school and killing each other, most people ask what they are to do. Last week I included a speech by Newt Gingrich saying that when when they took religion out of the schools, that the solution was to put Bible reading and religion back into the schools. His ideas are as good as they go. But the only real help for this nation which has turned its back on the Lord and Jesus Christ is to reinstitute the concept that we are a Christian nation. A nation that relies on Jesus Christ the Lord and seeks the guidance of the Lord Jesus Christ for all of its problems.
Jesus is the only hope and salvation for our nation that has chosen the way of Satan, immorality , and narcissism. This way that the United States has gone is portrayed constantly in all forms of the media. The United States of America has chosen the path where the sins of Sodom and Gomorrah are portrayed daily as a good thing. We have the deliberately cast God out of our daily life and have told Satan that he is the master of America.
Jesus, The Only Way:
John 14:1-31
1 Let not your heart be troubled: ye believe in God, believe also in me.
2 In my Father's house are many mansions: if it were not so, I would have told you. I go to prepare a place for you.
3 And if I go and prepare a place for you, I will come again, and receive you unto myself; that where I am, there ye may be also.
4 And whither I go ye know, and the way ye know.
5 Thomas saith unto him, Lord, we know not whither thou goest; and how can we know the way?
6 Jesus saith unto him, I am the way, the truth, and the life: no man cometh unto the Father, but by me.
7 If ye had known me, ye should have known my Father also: and from henceforth ye know him, and have seen him.
8 Philip saith unto him, Lord, shew us the Father, and it sufficeth us.
9 Jesus saith unto him, Have I been so long time with you, and yet hast thou not known me, Philip? he that hath seen me hath seen the Father; and how sayest thou then, Shew us the Father?
10 Believest thou not that I am in the Father, and the Father in me? the words that I speak unto you I speak not of myself: but the Father that dwelleth in me, he doeth the works.
11 Believe me that I am in the Father, and the Father in me: or else believe me for the very works' sake.
12 Verily, verily, I say unto you, He that believeth on me, the works that I do shall he do also; and greater works than these shall he do; because I go unto my Father.
13 And whatsoever ye shall ask in my name, that will I do, that the Father may be glorified in the Son.
14 If ye shall ask any thing in my name, I will do it.
15 If ye love me, keep my commandments.
16 And I will pray the Father, and he shall give you another Comforter, that he may abide with you for ever;
17 Even the Spirit of truth; whom the world cannot receive, because it seeth him not, neither knoweth him: but ye know him; for he dwelleth with you, and shall be in you.
18 I will not leave you comfortless: I will come to you.
19 Yet a little while, and the world seeth me no more; but ye see me: because I live, ye shall live also.
20 At that day ye shall know that I am in my Father, and ye in me, and I in you.
21 He that hath my commandments, and keepeth them, he it is that loveth me: and he that loveth me shall be loved of my Father, and I will love him, and will manifest myself to him.
22 Judas saith unto him, not Iscariot, Lord, how is it that thou wilt manifest thyself unto us, and not unto the world?
23 Jesus answered and said unto him, If a man love me, he will keep my words: and my Father will love him, and we will come unto him, and make our abode with him.
24 He that loveth me not keepeth not my sayings: and the word which ye hear is not mine, but the Father's which sent me.
25 These things have I spoken unto you, being yet present with you.
26 But the Comforter, which is the Holy Ghost, whom the Father will send in my name, he shall teach you all things, and bring all things to your remembrance, whatsoever I have said unto you.
27 Peace I leave with you, my peace I give unto you: not as the world giveth, give I unto you. Let not your heart be troubled, neither let it be afraid.
28 Ye have heard how I said unto you, I go away, and come again unto you. If ye loved me, ye would rejoice, because I said, I go unto the Father: for my Father is greater than I.
29 And now I have told you before it come to pass, that, when it is come to pass, ye might believe.
30 Hereafter I will not talk much with you: for the prince of this world cometh, and hath nothing in me.
31 But that the world may know that I love the Father; and as the Father gave me commandment, even so I do. Arise, let us go hence.
Jesus is the only healing power for our nation. Jesus is the only solution for our nation. If our nation would just humble itself and pray for the Lord's precious deliverance then there would be healing in the land. But it is obvious that the path that the nation has taken is the path of debauchery and sin. Our nation has chosen the path of wickedness and lasciviousness. This path is evident even from the highest office in the land. We have chosen a president and first lady that emulate the mannerisms of Ahab and Jezebel!
1 Kings 21:20-26
20 And Ahab said to Elijah, Hast thou found me, O mine enemy? And he answered, I have found thee: because thou hast sold thyself to work evil in the sight of the LORD.
21 Behold, I will bring evil upon thee, and will take away thy posterity, and will cut off from Ahab him that pisseth against the wall, and him that is shut up and left in Israel,
22 And will make thine house like the house of Jeroboam the son of Nebat, and like the house of Baasha the son of Ahijah, for the provocation wherewith thou hast provoked me to anger, and made Israel to sin.
23 And of Jezebel also spake the LORD, saying, The dogs shall eat Jezebel by the wall of Jezreel.
24 Him that dieth of Ahab in the city the dogs shall eat; and him that dieth in the field shall the fowls of the air eat.
25 But there was none like unto Ahab, which did sell himself to work wickedness in the sight of the LORD, whom Jezebel his wife stirred up.
26 And he did very abominably in following idols, according to all things as did the Amorites, whom the LORD cast out before the children of Israel.
Ahab and Jezebel were the most wicked king and queen of Israel! Their sins are comparable to the sins of Bill and Hillary Clinton. They have shown by their actions that their ways are not the ways of the Lord, but of Satan. They have lived a life of sin and lasciviousness and debauchery. Just the Monica scandal and others is probably just the tip of the iceberg. How about the unexplained suicides like Vince Foster, that anyone in their right mind would question the validity of such ridiculous assertions. Also there are many other scandals that have appeared over time that clearly show that we have a lier and an emulator of the most wick of wicked king of Israel.
Is it therefore any wonder that the children of our land are carrying weapons to school and killing each other. They look at the president and are just emulating his wickedness. They think as he does that women are just sex objects to be used and tossed away when finished with. They see that if anyone gets in your way that it is perfectly OK to execute him. They see that wickedness is encouraged from the highest office in the land and they feel that it is their right to do the same.
If only this nation would humble itself and pray to the Lord Jesus for divine forgiveness, then the Lord might hear our prayer and forgive us of our wickedness.
2 Chronicles 7
14 If my people, which are called by my name, shall humble themselves, and pray, and seek my face, and turn from their wicked ways; then will I hear from heaven, and will forgive their sin, and will heal their land.
This admonition was good enough for Israel, don't you think that the same admonition will work for America?

The Full Gospel Church

	3014 E Street
	Philadelphia, PA  19134
	Church Office Phone: (215) 634-3637
	Published by: Rev. LeRoy D. Cressy (215) 535-4037 


	                    Services:

	Sunday School  . . . . . . . . . . . . . .10:30 AM

	Sunday Morning Worship . . . . . . . . . . 12 NOON

	Sunday Evening . . . . . . . . . . . . . . 6:30 PM

	Wednesday Evening  . . . . . . . . . . . . 7:30 PM

    
Last modified: Sun May 23 13:52:13 EDT 1999