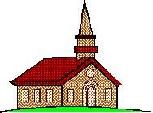 The Full Gospel Church


Vol. III Number 22 June 6, 1999

The Daughter of Babylon
The month of June in Philadelphia has officially been declared as, ``Gay Pride Month!'' The people who participate in such activities are participating in the same activities that Sodom and Gomorrah were destroyed for. This nation has surely turned into the end time daughter of Babylon that is described in the Bible. This end time nation is a super power that is destroyed in a day. We are a nation that looks after its own power and position continually misleading the citizens and the rest of the world about our real intentions. For instance, why are we in Serbia? Are we there to aid the citizens of Kosovo? If we really cared about others rights we would be all over the world like in Sudan fighting to free the slaves. But because we don't care about the slaves in the Sudan, slavery continues.
Psalms 137:8-9
8 O daughter of Babylon, who art to be destroyed; happy shall he be, that rewardeth thee as thou hast served us.
9 Happy shall he be, that taketh and dasheth thy little ones against the stones.
The above scripture sounds gruesome, but the view of the world about the US feels that we are the nation that is not afraid to use the atomic arsenal for our own desires. We hold this power over all of the other nations of the world to keep them in subjection to us. When a nation steps out of line, we are sure to step in and subdue that nation. Then we say that it is our responsibility to be the policeman of the world. While at the same time our ``leaders'' live in debauchery and sin. We have presidents, senators, congressmen, all the way down to the local community lying and deceiving the people. Is it any wonder that we live in a city that declares that the month of June is dedicated to the homosexual community? Is it any wonder that God is going to judge our nation with fire and brimstone just like Sodom and Gomorrah in Genesis?
Genesis 19:24-26
24 Then the LORD rained upon Sodom and upon Gomorrah brimstone and fire from the LORD out of heaven;
25 And he overthrew those cities, and all the plain, and all the inhabitants of the cities, and that which grew upon the ground.
26 But his wife looked back from behind him, and she became a pillar of salt.
We as a nation have chosen to live in debauchery and sin. Just this past week I heard on the news of a court case where a student was not allowed to read his favorite story from the Bible to the class. But if the same child wanted to read Hustler or Playboy to the class that would have been acceptable under his ``freedom of speech!'' But the freedom of speech for the Christian has been destroyed and taken away! But if sin and debauchery is involved, that freedom of speech is held in high esteem by the American Judicial System! We have become a weak and complacent nation that rests on its laurels. We have become a nation where only 50% of the people will get off their duffs and vote. We have seen just this past week a case where a woman hit and killed a person changing a flat tire, goes and has the car washed, and then has the car fixed. She did her best to destroy all of the evidence, and hide the fact that she was even there. And the judge of the case says that this wicked woman will get off with probation. How far have we fallen as a nation where there is no regard for human life. Kids are killing kids in schools! As time goes on, this nation is slipping further and further to the pits of hell!
Isaiah 47:1-15
1 Come down, and sit in the dust, O virgin daughter of Babylon, sit on the ground: there is no throne, O daughter of the Chaldeans: for thou shalt no more be called tender and delicate.
2 Take the millstones, and grind meal: uncover thy locks, make bare the leg, uncover the thigh, pass over the rivers.
3 Thy nakedness shall be uncovered, yea, thy shame shall be seen: I will take vengeance, and I will not meet thee as a man.
4 As for our redeemer, the LORD of hosts is his name, the Holy One of Israel.
5 Sit thou silent, and get thee into darkness, O daughter of the Chaldeans: for thou shalt no more be called, The lady of kingdoms.
6 I was wroth with my people, I have polluted mine inheritance, and given them into thine hand: thou didst shew them no mercy; upon the ancient hast thou very heavily laid thy yoke.
7 And thou saidst, I shall be a lady for ever: so that thou didst not lay these things to thy heart, neither didst remember the latter end of it.
8 Therefore hear now this, thou that art given to pleasures, that dwellest carelessly, that sayest in thine heart, I am, and none else beside me; I shall not sit as a widow, neither shall I know the loss of children:
9 But these two things shall come to thee in a moment in one day, the loss of children, and widowhood: they shall come upon thee in their perfection for the multitude of thy sorceries, and for the great abundance of thine enchantments.
10 For thou hast trusted in thy wickedness: thou hast said, None seeth me. Thy wisdom and thy knowledge, it hath perverted thee; and thou hast said in thine heart, I am, and none else beside me.
11 Therefore shall evil come upon thee; thou shalt not know from whence it riseth: and mischief shall fall upon thee; thou shalt not be able to put it off: and desolation shall come upon thee suddenly, which thou shalt not know.
12 Stand now with thine enchantments, and with the multitude of thy sorceries, wherein thou hast laboured from thy youth; if so be thou shalt be able to profit, if so be thou mayest prevail.
13 Thou art wearied in the multitude of thy counsels. Let now the astrologers, the stargazers, the monthly prognosticators, stand up, and save thee from these things that shall come upon thee.
14 Behold, they shall be as stubble; the fire shall burn them; they shall not deliver themselves from the power of the flame: there shall not be a coal to warm at, nor fire to sit before it.
15 Thus shall they be unto thee with whom thou hast laboured, even thy merchants, from thy youth: they shall wander every one to his quarter; none shall save thee.
Jeremiah 51:1-14
1 Thus saith the LORD; Behold, I will raise up against Babylon, and against them that dwell in the midst of them that rise up against me, a destroying wind;
2 And will send unto Babylon fanners, that shall fan her, and shall empty her land: for in the day of trouble they shall be against her round about.
3 Against him that bendeth let the archer bend his bow, and against him that lifteth himself up in his brigandine: and spare ye not her young men; destroy ye utterly all her host.
4 Thus the slain shall fall in the land of the Chaldeans, and they that are thrust through in her streets.
5 For Israel hath not been forsaken, nor Judah of his God, of the LORD of hosts; though their land was filled with sin against the Holy One of Israel.
6 Flee out of the midst of Babylon, and deliver every man his soul: be not cut off in her iniquity; for this is the time of the LORD's vengeance; he will render unto her a recompence.
7 Babylon hath been a golden cup in the LORD's hand, that made all the earth drunken: the nations have drunken of her wine; therefore the nations are mad.
8 Babylon is suddenly fallen and destroyed: howl for her; take balm for her pain, if so be she may be healed.
9 We would have healed Babylon, but she is not healed: forsake her, and let us go every one into his own country: for her judgment reacheth unto heaven, and is lifted up even to the skies.
10 The LORD hath brought forth our righteousness: come, and let us declare in Zion the work of the LORD our God.
11 Make bright the arrows; gather the shields: the LORD hath raised up the spirit of the kings of the Medes: for his device is against Babylon, to destroy it; because it is the vengeance of the LORD, the vengeance of his temple.
12 Set up the standard upon the walls of Babylon, make the watch strong, set up the watchmen, prepare the ambushes: for the LORD hath both devised and done that which he spake against the inhabitants of Babylon.
13 O thou that dwellest upon many waters, abundant in treasures, thine end is come, and the measure of thy covetousness.
14 The LORD of hosts hath sworn by himself, saying, Surely I will fill thee with men, as with caterpillers; and they shall lift up a shout against thee.
Revelation 18:1-24
1 And after these things I saw another angel come down from heaven, having great power; and the earth was lightened with his glory.
2 And he cried mightily with a strong voice, saying, Babylon the great is fallen, is fallen, and is become the habitation of devils, and the hold of every foul spirit, and a cage of every unclean and hateful bird.
3 For all nations have drunk of the wine of the wrath of her fornication, and the kings of the earth have committed fornication with her, and the merchants of the earth are waxed rich through the abundance of her delicacies.
4 And I heard another voice from heaven, saying, Come out of her, my people, that ye be not partakers of her sins, and that ye receive not of her plagues.
5 For her sins have reached unto heaven, and God hath remembered her iniquities.
6 Reward her even as she rewarded you, and double unto her double according to her works: in the cup which she hath filled fill to her double.
7 How much she hath glorified herself, and lived deliciously, so much torment and sorrow give her: for she saith in her heart, I sit a queen, and am no widow, and shall see no sorrow.
8 Therefore shall her plagues come in one day, death, and mourning, and famine; and she shall be utterly burned with fire: for strong is the Lord God who judgeth her.
9 And the kings of the earth, who have committed fornication and lived deliciously with her, shall bewail her, and lament for her, when they shall see the smoke of her burning,
10 Standing afar off for the fear of her torment, saying, Alas, alas that great city Babylon, that mighty city! for in one hour is thy judgment come.
11 And the merchants of the earth shall weep and mourn over her; for no man buyeth their merchandise any more:
12 The merchandise of gold, and silver, and precious stones, and of pearls, and fine linen, and purple, and silk, and scarlet, and all thyine wood, and all manner vessels of ivory, and all manner vessels of most precious wood, and of brass, and iron, and marble,
13 And cinnamon, and odours, and ointments, and frankincense, and wine, and oil, and fine flour, and wheat, and beasts, and sheep, and horses, and chariots, and slaves, and souls of men.
14 And the fruits that thy soul lusted after are departed from thee, and all things which were dainty and goodly are departed from thee, and thou shalt find them no more at all.
15 The merchants of these things, which were made rich by her, shall stand afar off for the fear of her torment, weeping and wailing,
16 And saying, Alas, alas, that great city, that was clothed in fine linen, and purple, and scarlet, and decked with gold, and precious stones, and pearls!
17 For in one hour so great riches is come to nought. And every shipmaster, and all the company in ships, and sailors, and as many as trade by sea, stood afar off,
18 And cried when they saw the smoke of her burning, saying, What city is like unto this great city!
19 And they cast dust on their heads, and cried, weeping and wailing, saying, Alas, alas, that great city, wherein were made rich all that had ships in the sea by reason of her costliness! for in one hour is she made desolate.
20 Rejoice over her, thou heaven, and ye holy apostles and prophets; for God hath avenged you on her.
21 And a mighty angel took up a stone like a great millstone, and cast it into the sea, saying, Thus with violence shall that great city Babylon be thrown down, and shall be found no more at all.
22 And the voice of harpers, and musicians, and of pipers, and trumpeters, shall be heard no more at all in thee; and no craftsman, of whatsoever craft he be, shall be found any more in thee; and the sound of a millstone shall be heard no more at all in thee;
23 And the light of a candle shall shine no more at all in thee; and the voice of the bridegroom and of the bride shall be heard no more at all in thee: for thy merchants were the great men of the earth; for by thy sorceries were all nations deceived.
24 And in her was found the blood of prophets, and of saints, and of all that were slain upon the earth.

The Full Gospel Church

	3014 E Street
	Philadelphia, PA  19134
	Church Office Phone: (215) 634-3637
	Published by: Rev. LeRoy D. Cressy (215) 535-4037 


	                    Services:

	Sunday School  . . . . . . . . . . . . . .10:30 AM

	Sunday Morning Worship . . . . . . . . . . 12 NOON

	Sunday Evening . . . . . . . . . . . . . . 6:30 PM

	Wednesday Evening  . . . . . . . . . . . . 7:30 PM

    
Last modified: Sun May 30 13:51:34 EDT 1999