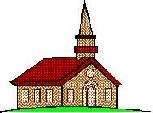 The Full Gospel Church


Vol. IV Number 11 March 12, 2000

When Trouble Strikes
There are times when everything seems to have gone wrong. A lot of these times occur because of our own stupidity. Sometimes we like to blame others for our own carelessness, but the truth is we have to look to ourselves for the errors we make. A prime example of this is what I did this past week. I thought I was in a sub directory when in reality I was in the root directory when I typed ``rm -rf *.'' Any UNIX or Linux user knows that a simple command such as this is a very dangerous thing as the root user. Needless to say I almost immediately wiped out my hard drive. The redeeming factor in all of this is that I had some file systems mounted as read only which prevented me from destroying everything.
But when calamity happens, the first impulse is to pin the blame on anyone else but yourself. There are a lot of people who want to think that they are on the path to heaven while the have chosen a life of sin. This morning I received an email which originated from Sharon Thomas with the following:

      Funny How
         This is so true and shame on us!
     
      Funny how simple it is for people to trash God and
         then wonder why the world's going to hell.
     
     
      Funny how we believe what the newspapers say, but
         question what the Bible says.
     
     
      Funny how everyone wants to go to heaven provided
         they do not have to believe, think, say, or do anything
         the Bible says.
     
      Or is it scary?
     
      Funny how someone can say "I believe in God" but still
         follow Satan (who, by the way, also "believes" in God).
     
     
      Funny how you can send a thousand 'jokes'  through
         e-mail and they spread like wildfire, but when you start
         sending messages regarding the Lord, people think twice
         about sharing.  (not you my friends)
     
      Funny how the lewd, crude, vulgar and obscene pass
         freely through cyberspace, but the public discussion of
         Jesus is suppressed in the school and workplace.
     
      FUNNY, ISN'T IT?
     
     
      Funny how someone can be so fired up for Christ on
         Sunday, but be an invisible Christian the rest of the week.
     
     
      Are you laughing?
     
     
      Funny how when you go to forward this message,
         you will not sent it to many on your address list because
         you're not sure what they believe, or what they will
         think of you for sending it to them.  (sending to all)
     
      Funny how I can be more worried about what other
         people think of me than what God thinks of me.
     
      Are you thinking?
     
     
     If You have gotten this far and decide to send it to your friends,
        please include my name on
        your mailing list. I would like to know how many people  actually made
        it this far and weren't afraid to send it.
    
Many of life's tragedies and problems come from ourselves and not someone else. Many want to blame their troubles on ``bad luck'' or someone else, while those who are attune to Jesus Christ know that there is no such thing as luck. For everything has a purpose and everything that a Christian goes through is for a purpose. Even when we make some stupid mistakes, there is a purpose to why we go through the agony.
Ecclesiastes 3:1
1 To every thing there is a season, and a time to every purpose under the heaven:
Everything that happens in our lives has a divine purpose. Even the trials and temptations that we go through have a divine purpose. Though we may not see the purpose, there is a reason why the Christian goes through the trial. Have you ever thought why you sometimes go through certain situations time and time again? Could it be that the Lord is attempting to teach you something but you haven't gotten the message yet? Like the Christian who insists in living in sin and there is always heartache and trouble for that Christian.
An example of this is when I was preaching on the street corner one night a drunken derelict came up to us and said that many years ago he also was a minister and a preacher of Christ. But he made a choice to delve into the ravages of sin and the end result was living on the streets of Philadelphia. How can one who has known the riches of God's grace sink so low as to become a pan-handler and a drunk living on the street? It boils down that he made a choice to serve the flesh rather than the Lord Jesus Christ.
1 John 2:1-19
1 My little children, these things write I unto you, that ye sin not. And if any man sin, we have an advocate with the Father, Jesus Christ the righteous:
2 And he is the propitiation for our sins: and not for ours only, but also for the sins of the whole world.
3 And hereby we do know that we know him, if we keep his commandments.
4 He that saith, I know him, and keepeth not his commandments, is a liar, and the truth is not in him.
5 But whoso keepeth his word, in him verily is the love of God perfected: hereby know we that we are in him.
6 He that saith he abideth in him ought himself also so to walk, even as he walked.
7 Brethren, I write no new commandment unto you, but an old commandment which ye had from the beginning. The old commandment is the word which ye have heard from the beginning.
8 Again, a new commandment I write unto you, which thing is true in him and in you: because the darkness is past, and the true light now shineth.
9 He that saith he is in the light, and hateth his brother, is in darkness even until now.
10 He that loveth his brother abideth in the light, and there is none occasion of stumbling in him.
11 But he that hateth his brother is in darkness, and walketh in darkness, and knoweth not whither he goeth, because that darkness hath blinded his eyes.
12 I write unto you, little children, because your sins are forgiven you for his name's sake.
13 I write unto you, fathers, because ye have known him that is from the beginning. I write unto you, young men, because ye have overcome the wicked one. I write unto you, little children, because ye have known the Father.
14 I have written unto you, fathers, because ye have known him that is from the beginning. I have written unto you, young men, because ye are strong, and the word of God abideth in you, and ye have overcome the wicked one.
15 Love not the world, neither the things that are in the world. If any man love the world, the love of the Father is not in him.
16 For all that is in the world, the lust of the flesh, and the lust of the eyes, and the pride of life, is not of the Father, but is of the world.
17 And the world passeth away, and the lust thereof: but he that doeth the will of God abideth for ever.
18 Little children, it is the last time: and as ye have heard that antichrist shall come, even now are there many antichrists; whereby we know that it is the last time.
19 They went out from us, but they were not of us; for if they had been of us, they would no doubt have continued with us: but they went out, that they might be made manifest that they were not all of us.
Jude 1:14-25
14 And Enoch also, the seventh from Adam, prophesied of these, saying, Behold, the Lord cometh with ten thousands of his saints,
15 To execute judgment upon all, and to convince all that are ungodly among them of all their ungodly deeds which they have ungodly committed, and of all their hard speeches which ungodly sinners have spoken against him.
16 These are murmurers, complainers, walking after their own lusts; and their mouth speaketh great swelling words, having men's persons in admiration because of advantage.
17 But, beloved, remember ye the words which were spoken before of the apostles of our Lord Jesus Christ;
18 How that they told you there should be mockers in the last time, who should walk after their own ungodly lusts.
19 These be they who separate themselves, sensual, having not the Spirit.
20 But ye, beloved, building up yourselves on your most holy faith, praying in the Holy Ghost,
21 Keep yourselves in the love of God, looking for the mercy of our Lord Jesus Christ unto eternal life.
22 And of some have compassion, making a difference:
23 And others save with fear, pulling them out of the fire; hating even the garment spotted by the flesh.
24 Now unto him that is able to keep you from falling, and to present you faultless before the presence of his glory with exceeding joy,
25 To the only wise God our Saviour, be glory and majesty, dominion and power, both now and ever. Amen.
The ones who know Christ but refuse to follow him walk after their own lusts and wicked desires. They have chosen a path of wickedness and they will pay the price of the path that they have chosen. It may seem that the wicked of the world get all of the benefits of the world, but for the ones who have really known the Lord Jesus Christ, it would have been better for them never to have known the gospel of Truth.
2 Peter 2:20-21
20 For if after they have escaped the pollutions of the world through the knowledge of the Lord and Saviour Jesus Christ, they are again entangled therein, and overcome, the latter end is worse with them than the beginning.
21 For it had been better for them not to have known the way of righteousness, than, after they have known it, to turn from the holy commandment delivered unto them.
But as the thoughts of the email that I received, and what the Bible says concerning those who know the truth and turn away from the truth, it would have been better for them never to have known the Gospel of Peace, for their end turns up worse than when they first heard the Gospel of Peace.
The whole point in this lesson is whatever choices that you make, whatever decisions that you decide, and whatever actions that you take, determine your standing in the Lord Jesus Christ. If you choose the ways of the world, then you have no part of Jesus Christ's heaven; on the other hand, if you follow the precepts of the Bible and the Lord Jesus Christ, you will inherit riches for evermore.

The Full Gospel Church

	3014 E Street
	Philadelphia, PA  19134
	Church Office Phone: (215) 634-3637
	Published by: Rev. LeRoy D. Cressy (215) 535-4037 


	                    Services:

	Sunday School  . . . . . . . . . . . . . .10:30 AM

	Sunday Morning Worship . . . . . . . . . . 12 NOON

	Sunday Evening . . . . . . . . . . . . . . 6:30 PM

	Wednesday Evening  . . . . . . . . . . . . 7:30 PM

    
Copyright © 2000 LeRoy D. Cressy
Permission is granted to make and distribute verbatim copies of this transcript as long as the copyright and this permission notice appear.

Last modified: Wed Sep 13 20:33:44 EDT 2000