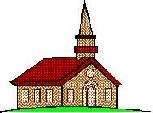 The Full Gospel Church


Vol. IV Number 20 May 14, 2000

Jesus, Our Only Hope
The times that we live in are very troubling. We have lawyers who want to place the blame on the business man for the graffiti in the neighborhood instead of holding the ones who destroy the property responsible. What kind of society blames the victim and not the criminal? We definitely are living in perilous times.
2 Timothy 3:1

1 This know also, that in the last days perilous times shall come.
The only for the born again believer in Christ is to totally trust in the Lord Jesus Christ as their savior. Also the Christian's only hope is in their Lord and savior. There is no other hope outside of Jesus. There is no other option for the Christian than to put all of his hope and trust in the Lord Jesus Christ. For without Christ what do we have?
As in the days of the Apostles the present days are just as evil. Even today the agents of the government are doing their utmost to destroy the Christian faith. They want to make sure that the children believe in the state rather than trust in Christ. They discredit the Bible whenever they can. We are living in the same environment as Peter and the Apostles were.
Acts 4:1-12

1 And as they spake unto the people, the priests, and the captain of the temple, and the Sadducees, came upon them,
2 Being grieved that they taught the people, and preached through Jesus the resurrection from the dead.
3 And they laid hands on them, and put them in hold unto the next day: for it was now eventide.
4 Howbeit many of them which heard the word believed; and the number of the men was about five thousand.
5 And it came to pass on the morrow, that their rulers, and elders, and scribes,
6 And Annas the high priest, and Caiaphas, and John, and Alexander, and as many as were of the kindred of the high priest, were gathered together at Jerusalem.
7 And when they had set them in the midst, they asked, By what power, or by what name, have ye done this?
8 Then Peter, filled with the Holy Ghost, said unto them, Ye rulers of the people, and elders of Israel,
9 If we this day be examined of the good deed done to the impotent man, by what means he is made whole;
10 Be it known unto you all, and to all the people of Israel, that by the name of Jesus Christ of Nazareth, whom ye crucified, whom God raised from the dead, even by him doth this man stand here before you whole.
11 This is the stone which was set at nought of you builders, which is become the head of the corner.
12 Neither is there salvation in any other: for there is none other name under heaven given among men, whereby we must be saved.
As Peter summed up in his talk to the religious leaders and lawyers, ``Neither is there salvation in any other: for there is none other name under heaven given among men, whereby we must be saved.'' is appropriate for the Christian community today. For without Jesus Christ there would be no Christianity. And as the times get worse, the Christian will find it more and more necessary to lean upon Jesus Christ for everything. As Christ freed the apostles from jail, we will see like experiences in the world today. Also the time is coming where the government will attempt to control every aspect of your life, more than they are trying to accomplish today. When the time come where there seem no hope then is the time to look up for your redemption is at hand.
Luke 21:7-36

7 And they asked him, saying, Master, but when shall these things be? and what sign will there be when these things shall come to pass?
8 And he said, Take heed that ye be not deceived: for many shall come in my name, saying, I am Christ; and the time draweth near: go ye not therefore after them.
9 But when ye shall hear of wars and commotions, be not terrified: for these things must first come to pass; but the end is not by and by.
10 Then said he unto them, Nation shall rise against nation, and kingdom against kingdom:
11 And great earthquakes shall be in divers places, and famines, and pestilences; and fearful sights and great signs shall there be from heaven.
12 But before all these, they shall lay their hands on you, and persecute you, delivering you up to the synagogues, and into prisons, being brought before kings and rulers for my name's sake.
13 And it shall turn to you for a testimony.
14 Settle it therefore in your hearts, not to meditate before what ye shall answer:
15 For I will give you a mouth and wisdom, which all your adversaries shall not be able to gainsay nor resist.
16 And ye shall be betrayed both by parents, and brethren, and kinsfolks, and friends; and some of you shall they cause to be put to death.
17 And ye shall be hated of all men for my name's sake.
18 But there shall not an hair of your head perish.
19 In your patience possess ye your souls.
20 And when ye shall see Jerusalem compassed with armies, then know that the desolation thereof is nigh.
21 Then let them which are in Judaea flee to the mountains; and let them which are in the midst of it depart out; and let not them that are in the countries enter thereinto.
22 For these be the days of vengeance, that all things which are written may be fulfilled.
23 But woe unto them that are with child, and to them that give suck, in those days! for there shall be great distress in the land, and wrath upon this people.
24 And they shall fall by the edge of the sword, and shall be led away captive into all nations: and Jerusalem shall be trodden down of the Gentiles, until the times of the Gentiles be fulfilled.
25 And there shall be signs in the sun, and in the moon, and in the stars; and upon the earth distress of nations, with perplexity; the sea and the waves roaring;
26 Men's hearts failing them for fear, and for looking after those things which are coming on the earth: for the powers of heaven shall be shaken.
27 And then shall they see the Son of man coming in a cloud with power and great glory.
28 And when these things begin to come to pass, then look up, and lift up your heads; for your redemption draweth nigh.
29 And he spake to them a parable; Behold the fig tree, and all the trees;
30 When they now shoot forth, ye see and know of your own selves that summer is now nigh at hand.
31 So likewise ye, when ye see these things come to pass, know ye that the kingdom of God is nigh at hand.
32 Verily I say unto you, This generation shall not pass away, till all be fulfilled.
33 Heaven and earth shall pass away: but my words shall not pass away.
34 And take heed to yourselves, lest at any time your hearts be overcharged with surfeiting, and drunkenness, and cares of this life, and so that day come upon you unawares.
35 For as a snare shall it come on all them that dwell on the face of the whole earth.
36 Watch ye therefore, and pray always, that ye may be accounted worthy to escape all these things that shall come to pass, and to stand before the Son of man.
All you have to do is look around today and see that the times are getting worse. No longer can you trust the government agencies to do the right thing. Now your only hope lies in Jesus Christ the Lord. Now your only resolve is in Jesus Christ the Lord. There is no other hope than in your one and trust Saviour, Jesus Christ the Lord.
Praise the Lord

The Full Gospel Church

	3014 E Street
	Philadelphia, PA  19134
	Church Office Phone: (215) 634-3637
	Published by: Rev. LeRoy D. Cressy (215) 535-4037 


	                    Services:

	Sunday School  . . . . . . . . . . . . . .10:30 AM

	Sunday Morning Worship . . . . . . . . . . 12 NOON

	Sunday Evening . . . . . . . . . . . . . . 6:30 PM

	Wednesday Evening  . . . . . . . . . . . . 7:30 PM

    
Copyright © 2000 LeRoy D. Cressy
Permission is granted to make and distribute verbatim copies of this transcript as long as the copyright and this permission notice appear.

Last modified: Wed Sep 13 20:29:05 EDT 2000