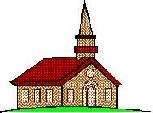 The Full Gospel Church


Vol. IV Number 21 May 21, 2000

Jesus, The Only Way
During the Last Supper that Jesus ate with his disciples, there was brought up the topic of belief. At this point in time, the disciples didn't realize who Jesus really was. They were still hoping for a military overthrow of the Romans, or a victory against the oppressive Romans via a divine miracle. Though Jesus told them that they were to love their enemies and to do good to the oppressors, they were still looking for the overthrow of the Romans and a restoration of King David's kingdom.
Jesus opens up the 14th chapter of Saint John with, ``Let not your heart be troubled.'' What was Jesus talking about? They just experienced a triumphal entrance into Jerusalem on Palm Sunday and it was evident that the will of the people was behind them. Surly they had enough power to destroy those Roman oppressors. This is quite evident with Peter's actions in the Garden of Gethsemane (John 18:10) where Peter cuts off Malchus' ear. Though Jesus was trying to warn them what would later happen that very night, and the next few days, the disciples still had no clue about their mission and either the mission of the Lord Jesus Christ.
When Jesus said to them, ``Let not your heart be troubled,'' The warning went unnoticed. The disciples were still riding on the wave of their entrance into Jerusalem last Sunday.
John 14:1-31

1 Let not your heart be troubled: ye believe in God, believe also in me.
2 In my Father's house are many mansions: if it were not so, I would have told you. I go to prepare a place for you.
3 And if I go and prepare a place for you, I will come again, and receive you unto myself; that where I am, there ye may be also.
4 And whither I go ye know, and the way ye know.
5 Thomas saith unto him, Lord, we know not whither thou goest; and how can we know the way?
6 Jesus saith unto him, I am the way, the truth, and the life: no man cometh unto the Father, but by me.
7 If ye had known me, ye should have known my Father also: and from henceforth ye know him, and have seen him.
8 Philip saith unto him, Lord, shew us the Father, and it sufficeth us.
9 Jesus saith unto him, Have I been so long time with you, and yet hast thou not known me, Philip? he that hath seen me hath seen the Father; and how sayest thou then, Shew us the Father?
10 Believest thou not that I am in the Father, and the Father in me? the words that I speak unto you I speak not of myself: but the Father that dwelleth in me, he doeth the works.
11 Believe me that I am in the Father, and the Father in me: or else believe me for the very works' sake.
12 Verily, verily, I say unto you, He that believeth on me, the works that I do shall he do also; and greater works than these shall he do; because I go unto my Father.
13 And whatsoever ye shall ask in my name, that will I do, that the Father may be glorified in the Son.
14 If ye shall ask any thing in my name, I will do it.
15 If ye love me, keep my commandments.
16 And I will pray the Father, and he shall give you another Comforter, that he may abide with you for ever;
17 Even the Spirit of truth; whom the world cannot receive, because it seeth him not, neither knoweth him: but ye know him; for he dwelleth with you, and shall be in you.
18 I will not leave you comfortless: I will come to you.
19 Yet a little while, and the world seeth me no more; but ye see me: because I live, ye shall live also.
20 At that day ye shall know that I am in my Father, and ye in me, and I in you.
21 He that hath my commandments, and keepeth them, he it is that loveth me: and he that loveth me shall be loved of my Father, and I will love him, and will manifest myself to him.
22 Judas saith unto him, not Iscariot, Lord, how is it that thou wilt manifest thyself unto us, and not unto the world?
23 Jesus answered and said unto him, If a man love me, he will keep my words: and my Father will love him, and we will come unto him, and make our abode with him.
24 He that loveth me not keepeth not my sayings: and the word which ye hear is not mine, but the Father's which sent me.
25 These things have I spoken unto you, being yet present with you.
26 But the Comforter, which is the Holy Ghost, whom the Father will send in my name, he shall teach you all things, and bring all things to your remembrance, whatsoever I have said unto you.
27 Peace I leave with you, my peace I give unto you: not as the world giveth, give I unto you. Let not your heart be troubled, neither let it be afraid.
28 Ye have heard how I said unto you, I go away, and come again unto you. If ye loved me, ye would rejoice, because I said, I go unto the Father: for my Father is greater than I.
29 And now I have told you before it come to pass, that, when it is come to pass, ye might believe.
30 Hereafter I will not talk much with you: for the prince of this world cometh, and hath nothing in me.
31 But that the world may know that I love the Father; and as the Father gave me commandment, even so I do. Arise, let us go hence.
Jesus even went on to tell the Disciples that not only they weren't to be troubled by the events that were soon to unfold, but they were to rejoice for the Lord was going back to the Father. Here Jesus was telling them of his impending death and he was telling them that they were to rejoice! Here Jesus was trying to open up their hearts that not everything that seems bad really is. Jesus was telling his disciples that though the times may seem dark and not be working out how expected, that all is not lost when it comes to the Lord's will. This lesson is appropriate for us today where it can seem that the whole world is caving in on you only to realize that the Lord Jesus is still in control and everything will work out in the end. That evening when the Lord and his disciples went to the garden, everything seemed the darkest that the disciples had ever seen. Their Lord and deliverer was taken away from them by their own soldiers, the temple guards. Here it was the nation of Israel has turned against their own deliverer Jesus Christ. Israel's only hope for deliverance from the Romans was cast into prison and it went downhill from there.

The Full Gospel Church

	3014 E Street
	Philadelphia, PA  19134
	Church Office Phone: (215) 634-3637
	Published by: Rev. LeRoy D. Cressy (215) 535-4037 


	                    Services:

	Sunday School  . . . . . . . . . . . . . .10:30 AM

	Sunday Morning Worship . . . . . . . . . . 12 NOON

	Sunday Evening . . . . . . . . . . . . . . 6:30 PM

	Wednesday Evening  . . . . . . . . . . . . 7:30 PM

    
Copyright © 2000 LeRoy D. Cressy
Permission is granted to make and distribute verbatim copies of this transcript as long as the copyright and this permission notice appear.

Last modified: Wed Sep 13 20:28:38 EDT 2000