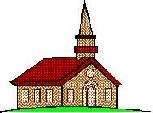 The Full Gospel Church


Vol. IV Number 25 June 18, 2000

Jesus,Our Leader
When I was in the US Army I was taught to lead my troops by example. In other words whatever I wanted my soldiers to do I had to be willing and able to do the same myself. Now as Christians we have a divine leader who has gone before us and has lead the way for us to follow. As Christians we are supposed to emulate our divine leader Jesus Christ. We are to lead the life that he lead. We are to emulate his divine life with our own.
1 John 1

1 That which was from the beginning, which we have heard, which we have seen with our eyes, which we have looked upon, and our hands have handled, of the Word of life;
2 (For the life was manifested, and we have seen it, and bear witness, and shew unto you that eternal life, which was with the Father, and was manifested unto us;)
3 That which we have seen and heard declare we unto you, that ye also may have fellowship with us: and truly our fellowship is with the Father, and with his Son Jesus Christ.
4 And these things write we unto you, that your joy may be full.
5 This then is the message which we have heard of him, and declare unto you, that God is light, and in him is no darkness at all.
6 If we say that we have fellowship with him, and walk in darkness, we lie, and do not the truth:
7 But if we walk in the light, as he is in the light, we have fellowship one with another, and the blood of Jesus Christ his Son cleanseth us from all sin.
8 If we say that we have no sin, we deceive ourselves, and the truth is not in us.
9 If we confess our sins, he is faithful and just to forgive us our sins, and to cleanse us from all unrighteousness.
10 If we say that we have not sinned, we make him a liar, and his word is not in us.
Romans 6:1-14

1 What shall we say then? Shall we continue in sin, that grace may abound?
2 God forbid. How shall we, that are dead to sin, live any longer therein?
3 Know ye not, that so many of us as were baptized into Jesus Christ were baptized into his death?
4 Therefore we are buried with him by baptism into death: that like as Christ was raised up from the dead by the glory of the Father, even so we also should walk in newness of life.
5 For if we have been planted together in the likeness of his death, we shall be also in the likeness of his resurrection:
6 Knowing this, that our old man is crucified with him, that the body of sin might be destroyed, that henceforth we should not serve sin.
7 For he that is dead is freed from sin.
8 Now if we be dead with Christ, we believe that we shall also live with him:
9 Knowing that Christ being raised from the dead dieth no more; death hath no more dominion over him.
10 For in that he died, he died unto sin once: but in that he liveth, he liveth unto God.
11 Likewise reckon ye also yourselves to be dead indeed unto sin, but alive unto God through Jesus Christ our Lord.
12 Let not sin therefore reign in your mortal body, that ye should obey it in the lusts thereof.
13 Neither yield ye your members as instruments of unrighteousness unto sin: but yield yourselves unto God, as those that are alive from the dead, and your members as instruments of righteousness unto God.
14 For sin shall not have dominion over you: for ye are not under the law, but under grace.
When we are baptized in the name of Jesus Christ, we rise to newness of life. The old person is passed away and we are born as a new creature in Christ Jesus.
2 Corinthians 5:17

17 Therefore if any man be in Christ, he is a new creature: old things are passed away; behold, all things are become new.
As new creatures in Christ we are to emulate our new master, Jesus Christ. Our life is no longer our own, but we now belong to the Lord Jesus Christ. He bought us from the clutches of Satan and now we serve a new master of righteousness
1 Corinthians 6:20

20 For ye are bought with a price: therefore glorify God in your body, and in your spirit, which are God's.
So let's rise up and follow our true leader who leads us on the road to eternal bliss and peace in heaven. Let's do the work of the glorious master Jesus Christ who is our true leader who has blazed the trail before us.

The Full Gospel Church

	3014 E Street
	Philadelphia, PA  19134
	Church Office Phone: (215) 634-3637
	Published by: Rev. LeRoy D. Cressy (215) 535-4037 


	                    Services:

	Sunday School  . . . . . . . . . . . . . .10:30 AM

	Sunday Morning Worship . . . . . . . . . . 12 NOON

	Sunday Evening . . . . . . . . . . . . . . 6:30 PM

	Wednesday Evening  . . . . . . . . . . . . 7:30 PM

    
Copyright © 2000 LeRoy D. Cressy
Permission is granted to make and distribute verbatim copies of this transcript as long as the copyright and this permission notice appear.

Last modified: Wed Sep 13 20:27:27 EDT 2000