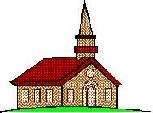 The Full Gospel Church


Vol. IV Number 29 July 16, 2000

Our Savior Jesus Christ
Jesus is our savior, and many know that Jesus has saved them from an eternity in hell. Today we will contemplate the price that Jesus had to pay to redeem us from the lake of fire.
We all know that Jesus was crucified on the cross as a common criminal and as an example to any who would even think about going against the Roman state. Many don't realize the Jesus slow painful agony that Jesus went through when he was hanging on the cross. I want you to imagine someone pounding a nail through your wrist. When was the last time that you were hammering a nail and hit your thumb. Now imagine the agony of driving a nail through your hand or wrist. This was only a small part that Jesus went through to become our savior. Now imagine rusty nails being driven through both wrists and both feet and you have the power to stop the pain and torture, but you endure the pain and the agony because you love the ones who are doing it to you. Finally, imagine hanging on the cross to bake in the hot sun until you die.
This is the supreme price that Jesus paid for us. Jesus even endured the total separation from the Father and conquered death hell and the grave for us. All this time knowing that at any moment he had the power to call a halt to everything, condemning the world who rejected him to an eternity of fire and brimstone. Jesus did not have to endure the cross, but he chose to endure it so that we might live.
Isaiah 53:1-12

1 Who hath believed our report? and to whom is the arm of the LORD revealed?
2 For he shall grow up before him as a tender plant, and as a root out of a dry ground: he hath no form nor comeliness; and when we shall see him, there is no beauty that we should desire him.
3 He is despised and rejected of men; a man of sorrows, and acquainted with grief: and we hid as it were our faces from him; he was despised, and we esteemed him not.
4 Surely he hath borne our griefs, and carried our sorrows: yet we did esteem him stricken, smitten of God, and afflicted.
5 But he was wounded for our transgressions, he was bruised for our iniquities: the chastisement of our peace was upon him; and with his stripes we are healed.
6 All we like sheep have gone astray; we have turned every one to his own way; and the LORD hath laid on him the iniquity of us all.
7 He was oppressed, and he was afflicted, yet he opened not his mouth: he is brought as a lamb to the slaughter, and as a sheep before her shearers is dumb, so he openeth not his mouth.
8 He was taken from prison and from judgment: and who shall declare his generation? for he was cut off out of the land of the living: for the transgression of my people was he stricken.
9 And he made his grave with the wicked, and with the rich in his death; because he had done no violence, neither was any deceit in his mouth.
10 Yet it pleased the LORD to bruise him; he hath put him to grief: when thou shalt make his soul an offering for sin, he shall see his seed, he shall prolong his days, and the pleasure of the LORD shall prosper in his hand.
11 He shall see of the travail of his soul, and shall be satisfied: by his knowledge shall my righteous servant justify many; for he shall bear their iniquities.
12 Therefore will I divide him a portion with the great, and he shall divide the spoil with the strong; because he hath poured out his soul unto death: and he was numbered with the transgressors; and he bare the sin of many, and made intercession for the transgressors.
Matthew 27:27-66

27 Then the soldiers of the governor took Jesus into the common hall, and gathered unto him the whole band of soldiers.
28 And they stripped him, and put on him a scarlet robe.
29 And when they had platted a crown of thorns, they put it upon his head, and a reed in his right hand: and they bowed the knee before him, and mocked him, saying, Hail, King of the Jews!
30 And they spit upon him, and took the reed, and smote him on the head.
31 And after that they had mocked him, they took the robe off from him, and put his own raiment on him, and led him away to crucify him.
32 And as they came out, they found a man of Cyrene, Simon by name: him they compelled to bear his cross.
33 And when they were come unto a place called Golgotha, that is to say, a place of a skull,
34 They gave him vinegar to drink mingled with gall: and when he had tasted thereof, he would not drink.
35 And they crucified him, and parted his garments, casting lots: that it might be fulfilled which was spoken by the prophet, They parted my garments among them, and upon my vesture did they cast lots.
36 And sitting down they watched him there;
37 And set up over his head his accusation written, THIS IS JESUS THE KING OF THE JEWS.
38 Then were there two thieves crucified with him, one on the right hand, and another on the left.
39 And they that passed by reviled him, wagging their heads,
40 And saying, Thou that destroyest the temple, and buildest it in three days, save thyself. If thou be the Son of God, come down from the cross.
41 Likewise also the chief priests mocking him, with the scribes and elders, said,
42 He saved others; himself he cannot save. If he be the King of Israel, let him now come down from the cross, and we will believe him.
43 He trusted in God; let him deliver him now, if he will have him: for he said, I am the Son of God.
44 The thieves also, which were crucified with him, cast the same in his teeth.
45 Now from the sixth hour there was darkness over all the land unto the ninth hour.
46 And about the ninth hour Jesus cried with a loud voice, saying, Eli, Eli, lama sabachthani? that is to say, My God, my God, why hast thou forsaken me?
47 Some of them that stood there, when they heard that, said, This man calleth for Elias.
48 And straightway one of them ran, and took a spunge, and filled it with vinegar, and put it on a reed, and gave him to drink.
49 The rest said, Let be, let us see whether Elias will come to save him.
50 Jesus, when he had cried again with a loud voice, yielded up the ghost.
51 And, behold, the veil of the temple was rent in twain from the top to the bottom; and the earth did quake, and the rocks rent;
52 And the graves were opened; and many bodies of the saints which slept arose,
53 And came out of the graves after his resurrection, and went into the holy city, and appeared unto many.
54 Now when the centurion, and they that were with him, watching Jesus, saw the earthquake, and those things that were done, they feared greatly, saying, Truly this was the Son of God.
55 And many women were there beholding afar off, which followed Jesus from Galilee, ministering unto him:
56 Among which was Mary Magdalene, and Mary the mother of James and Joses, and the mother of Zebedee's children.
57 When the even was come, there came a rich man of Arimathaea, named Joseph, who also himself was Jesus' disciple:
58 He went to Pilate, and begged the body of Jesus. Then Pilate commanded the body to be delivered.
59 And when Joseph had taken the body, he wrapped it in a clean linen cloth,
60 And laid it in his own new tomb, which he had hewn out in the rock: and he rolled a great stone to the door of the sepulchre, and departed.
61 And there was Mary Magdalene, and the other Mary, sitting over against the sepulchre.
62 Now the next day, that followed the day of the preparation, the chief priests and Pharisees came together unto Pilate,
63 Saying, Sir, we remember that that deceiver said, while he was yet alive, After three days I will rise again.
64 Command therefore that the sepulchre be made sure until the third day, lest his disciples come by night, and steal him away, and say unto the people, He is risen from the dead: so the last error shall be worse than the first.
65 Pilate said unto them, Ye have a watch: go your way, make it as sure as ye can.
66 So they went, and made the sepulchre sure, sealing the stone, and setting a watch.
When you really see the price that Jesus paid on the cross so that we may live, only then can you appreciate the value of our salvation. We have been bought with a very great price and our salvation is a very precious item. It is not something to ``toy'' with or to take for granted. Jesus really paid a tremendous price so that we could live. With that in mind we are to live for the Lord with all of our heart really showing our appreciation for what he did so that we could live.

The Full Gospel Church

	3014 E Street
	Philadelphia, PA  19134
	Church Office Phone: (215) 634-3637
	Published by: Rev. LeRoy D. Cressy (215) 535-4037 


	                    Services:

	Sunday School  . . . . . . . . . . . . . .10:30 AM

	Sunday Morning Worship . . . . . . . . . . 12 NOON

	Sunday Evening . . . . . . . . . . . . . . 6:30 PM

	Wednesday Evening  . . . . . . . . . . . . 7:30 PM

    
Copyright © 2000 LeRoy D. Cressy
Permission is granted to make and distribute verbatim copies of this transcript as long as the copyright and this permission notice appear.

Last modified: Wed Sep 13 20:25:24 EDT 2000