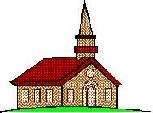 The Full Gospel Church

| | | |
| --- | --- | --- |
| Vol. V Number 15 | | June 24, 2001 |

God Works In Mysterious Ways
This past week i saw a person with a `T' shirt with the saying, ``God works in mysterious ways,'' printed on the front. This is a very familiar saying, but is it true? Does God work in mysterious ways, or does God work in perfectly logical methods based on his divine knowledge? When you are going through a trial or are in the midst of hard times, it may seem to you that God does work in mysterious ways, but when you look back at the trial, you can see that the Lord used the trial for good. Also in hindsight, God's methods always make sense.
The ways of the Lord seem mysterious to us based on our limited insight and knowledge. We who are not able to see the end from the beginning may think that the ways of the Lord are mysterious. If we had the insight and knowledge of God we would see that the ways of the Lord are not mysterious or strange. We would see that the Lord was actually doing what is best, and really the only logical method. So the saying that God works in mysterious ways may seem true to us while we are witnessing the unfolding of God's magnificent plan, but when it is concluded we see that God was really in a logical manner, not one based upon limited knowledge.
How many times have you made plans for something only to see circumstances change and your plans had to change? How many times have you seen your plans fail? Though you have gone through the most logical planning and you thought that you had considered all possibilities, something happens that wasn't planned which caused a total revamping of the plan? Have you ever seen God change his divine plan? Have you ever heard of God having to alter course due to circumstances beyond his control?
The saying, ``God works in mysterious ways,'' is just a saying made by people who do not or cannot see the logic of God's methods. To them God is a mystery and his ways are a mystery. Their knowledge of God is limited, and they cannot see beyond their own limited knowledge.
Romans 11:33-36

33 O the depth of the riches both of the wisdom and knowledge of God! how unsearchable are his judgments, and his ways past finding out!
34 For who hath known the mind of the Lord? or who hath been his counsellor?
35 Or who hath first given to him, and it shall be recompensed unto him again?
36 For of him, and through him, and to him, are all things: to whom be glory for ever. Amen.
The born again Christians need to realize that God only wants what is best for his saints. He also wants the saints to know what is going on and to expand their vision. As with the apostles, we are the friends of Jesus, and he has kept nothing hid from us.
John 15:13-27

13 Greater love hath no man than this, that a man lay down his life for his friends.
14 Ye are my friends, if ye do whatsoever I command you.
15 Henceforth I call you not servants; for the servant knoweth not what his lord doeth: but I have called you friends; for all things that I have heard of my Father I have made known unto you.
16 Ye have not chosen me, but I have chosen you, and ordained you, that ye should go and bring forth fruit, and that your fruit should remain: that whatsoever ye shall ask of the Father in my name, he may give it you.
17 These things I command you, that ye love one another.
18 If the world hate you, ye know that it hated me before it hated you.
19 If ye were of the world, the world would love his own: but because ye are not of the world, but I have chosen you out of the world, therefore the world hateth you.
20 Remember the word that I said unto you, The servant is not greater than his lord. If they have persecuted me, they will also persecute you; if they have kept my saying, they will keep yours also.
21 But all these things will they do unto you for my name's sake, because they know not him that sent me.
22 If I had not come and spoken unto them, they had not had sin: but now they have no cloak for their sin.
23 He that hateth me hateth my Father also.
24 If I had not done among them the works which none other man did, they had not had sin: but now have they both seen and hated both me and my Father.
25 But this cometh to pass, that the word might be fulfilled that is written in their law, They hated me without a cause.
26 But when the Comforter is come, whom I will send unto you from the Father, even the Spirit of truth, which proceedeth from the Father, he shall testify of me:
27 And ye also shall bear witness, because ye have been with me from the beginning.
Even when Jesus was telling the apostles during the Last Supper what was soon to befall him, they did not heed the message. They didn't realize that the time was upon them that the prophecies were going to be fulfilled. They didn't know that tonight the man that they had known for the last three years was going to be condemned and crucified. Though Jesus was telling them what was going to happen, they didn't heed the message. Thus they behaved the way that they did in the garden of Gethsemane later that night.
Thus to the person who has not experienced the unsearchable riches of God's glory, God's ways certainly seem mysterious. To those who have traveled with the Lord for a period of time begin to have patience and wait with expectancy upon the Lord to see how he will work out the present situation.

The Full Gospel Church

	3014 E Street
	Philadelphia, PA  19134
	Church Office Phone: (215) 634-3637
	Published by: Rev. LeRoy D. Cressy (215) 535-4037 


	                    Services:

	Sunday School  . . . . . . . . . . . . . .11:30 AM

	Sunday Morning Worship . . . . . . . . . . 12 NOON

	Sunday Evening . . . . . . . . . . . . . . 6:30 PM

	Wednesday Evening  . . . . . . . . . . . . 7:30 PM

    
Mail Addresses
Copyright © 2001 LeRoy D. Cressy
Permission is granted to make and distribute verbatim copies of this transcript as long as the copyright and this permission notice appear.

Last modified: Sun Jun 24 10:57:42 EDT 2001