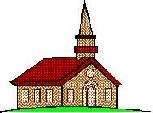 The Full Gospel Church

| | | |
| --- | --- | --- |
| Vol. V Number 23 | | August 19, 2001 |

A Christian Nation
There are many in the United States who want to say that we are a Christian nation. We put, ``In God We Trust'' on our currency, and many believe that it has always been there. This is not true for in the 1950's there was no mention of God on paper currency. the Internet site http://www.flash.net/~lbartley/au/issues/godtrust.htm has a lot of historical references to how the phrase ``In God We Trust,'' has been put on the U.S. currency. At the present time many believe that the slogan has been on the money forever and even from the beginning. I have an old 2 dollar bill from 1953 in my possession and there is no reference to the slogan. This old bill is not a Federal Reserve note, but a United States note.
How can a nation consider themselves a Christian Nation when our heritage shows that we were built on lies and deceptions. For instance, Thomas Jefferson wrote about all men being created equal, but was a slave master himself. Didn't he consider the men that worked for him as being equal? A huge number of Christians are deceiving themselves into believing that we are a Christian nation. Would a Christian nation promote legal:
Abortion?
Birth control for children without parental permission?
Covetousness
Deception by prosecutors?
E
Fornication in schools under the guise of ``sex education?''
G
Homosexuality?
Incontinent?
Justify wickedness as being a good thing?
Killing without a trial? (Vince Foster death in 1993)
http://www.bigeye.com/vfoster.htm
Lasciviousness?
Murder?
N
Official intrigue?
Parental rights taken away?
Q
Religious intolerance to Christians?
S
Truce breakers?
Unnatural affection?
V
Wickedness?
X
Y
Z
Romans 1:17-32

17 For therein is the righteousness of God revealed from faith to faith: as it is written, The just shall live by faith.
18 For the wrath of God is revealed from heaven against all ungodliness and unrighteousness of men, who hold the truth in unrighteousness;
19 Because that which may be known of God is manifest in them; for God hath shewed it unto them.
20 For the invisible things of him from the creation of the world are clearly seen, being understood by the things that are made, even his eternal power and Godhead; so that they are without excuse:
21 Because that, when they knew God, they glorified him not as God, neither were thankful; but became vain in their imaginations, and their foolish heart was darkened.
22 Professing themselves to be wise, they became fools,
23 And changed the glory of the uncorruptible God into an image made like to corruptible man, and to birds, and fourfooted beasts, and creeping things.
24 Wherefore God also gave them up to uncleanness through the lusts of their own hearts, to dishonour their own bodies between themselves:
25 Who changed the truth of God into a lie, and worshipped and served the creature more than the Creator, who is blessed for ever. Amen.
26 For this cause God gave them up unto vile affections: for even their women did change the natural use into that which is against nature:
27 And likewise also the men, leaving the natural use of the woman, burned in their lust one toward another; men with men working that which is unseemly, and receiving in themselves that recompence of their error which was meet.
28 And even as they did not like to retain God in their knowledge, God gave them over to a reprobate mind, to do those things which are not convenient;
29 Being filled with all unrighteousness, fornication, wickedness, covetousness, maliciousness; full of envy, murder, debate, deceit, malignity; whisperers,
30 Backbiters, haters of God, despiteful, proud, boasters, inventors of evil things, disobedient to parents,
31 Without understanding, covenantbreakers, without natural affection, implacable, unmerciful:
32 Who knowing the judgment of God, that they which commit such things are worthy of death, not only do the same, but have pleasure in them that do them.
With all of the official deception and wickedness going on it can be noted that the United States cannot possibly be a Christian nation. We are a nation ruled by the basest of men!
Daniel 4:17

17 This matter is by the decree of the watchers, and the demand by the word of the holy ones: to the intent that the living may know that the most High ruleth in the kingdom of men, and giveth it to whomsoever he will, and setteth up over it the basest of men.
It is not the righteous of the world who want to rule but the most vile and wicked of the world.

The Full Gospel Church

	3014 E Street
	Philadelphia, PA  19134
	Church Office Phone: (215) 634-3637
	Published by: Rev. LeRoy D. Cressy (215) 535-4037 


	                    Services:

	Sunday School  . . . . . . . . . . . . . .11:30 AM

	Sunday Morning Worship . . . . . . . . . . 12 NOON

	Sunday Evening . . . . . . . . . . . . . . 6:30 PM

	Wednesday Evening  . . . . . . . . . . . . 7:30 PM

    
Mail Addresses
Copyright © 2001 LeRoy D. Cressy
Permission is granted to make and distribute verbatim copies of this transcript as long as the copyright and this permission notice appear.

Last modified: Sun Aug 19 15:32:59 EDT 2001