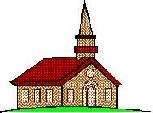 The Full Gospel Church

| | | |
| --- | --- | --- |
| Vol. VII Number 3 | | January 19, 2003 |

Jesus Our Lord and Master
Is Jesus your Lord and master? Are you following the precepts that are spelled out in the bible? Are you living a holy life that is pleasing to the Lord? Or, are you like most people who call them selves Christian but are inwardly a child of the world who just professes to be a Christian. There are many who are children of the world who profess to be a Christian. An example is the insurance agent who sells insurance that does not provide the coverage promised. Another is the executive who is selling his personal assets in a company while publicly endorsing the company stock.
Matthew 7:15-20

15 Beware of false prophets, which come to you in sheep's clothing, but inwardly they are ravening wolves.
16 Ye shall know them by their fruits. Do men gather grapes of thorns, or figs of thistles?
17 Even so every good tree bringeth forth good fruit; but a corrupt tree bringeth forth evil fruit.
18 A good tree cannot bring forth evil fruit, neither can a corrupt tree bring forth good fruit.
19 Every tree that bringeth not forth good fruit is hewn down, and cast into the fire.
20 Wherefore by their fruits ye shall know them.
Jesus warned about the ones who profess to be born again but were wicked deceivers working unrighteousness. Many are the wicked who haven't been caught. These are the ones who look good on the outside, but in reality they are doing the works of their father the devil. Sometime these deceivers are very adept at their deception, even deceiving themselves and their own family. Eventually they will be found out when the deception is found out. look at the CEO of Enron and the accountants at Arthur Anderson who covered up the fraud. It took years for the deception to come to light, but when it did both firms are now in liquidation. There are many from both of these companies who professed to be Christian but kept silent about the deception. Are these living Christians according the the Bible. If you are living a lie, you are not a follower of Jesus Christ.
John wrote about the deceivers who infiltrated the church in his time and they are of the same ilk as the deceivers today. Some even had positions of leadership who would not allow the last living apostle to preach in their church.
3 John 1:1-14

1 The elder unto the wellbeloved Gaius, whom I love in the truth.
2 Beloved, I wish above all things that thou mayest prosper and be in health, even as thy soul prospereth.
3 For I rejoiced greatly, when the brethren came and testified of the truth that is in thee, even as thou walkest in the truth.
4 I have no greater joy than to hear that my children walk in truth.
5 Beloved, thou doest faithfully whatsoever thou doest to the brethren, and to strangers;
6 Which have borne witness of thy charity before the church: whom if thou bring forward on their journey after a godly sort, thou shalt do well:
7 Because that for his name's sake they went forth, taking nothing of the Gentiles.
8 We therefore ought to receive such, that we might be fellowhelpers to the truth.
9 I wrote unto the church: but Diotrephes, who loveth to have the preeminence among them, receiveth us not.
10 Wherefore, if I come, I will remember his deeds which he doeth, prating against us with malicious words: and not content therewith, neither doth he himself receive the brethren, and forbiddeth them that would, and casteth them out of the church.
11 Beloved, follow not that which is evil, but that which is good. He that doeth good is of God: but he that doeth evil hath not seen God.
12 Demetrius hath good report of all men, and of the truth itself: yea, and we also bear record; and ye know that our record is true.
13 I had many things to write, but I will not with ink and pen write unto thee:
14 But I trust I shall shortly see thee, and we shall speak face to face. Peace be to thee. Our friends salute thee. Greet the friends by name.
Is there wickedness going on around you and you are keeping silent. Is you silence justified by the Bible? Would Jesus want you to keep silent? Your silence states that you are endorsing the evil wickedness that is going on. As an endorser of evil you share the responsibility for the evil.

The Full Gospel Church
3014 E Street
Philadelphia, PA 19134
Church Office Phone: (215) 634-3637
Published by: Rev. LeRoy D. Cressy (215) 535-4037

Services:
| | | |
| --- | --- | --- |
| Sunday School | . . . . . . . . . . . . . . | 11:30 AM |
| Sunday Morning Worship | . . . . . . . . . . . . . . | 12 NOON |
| Sunday Evening | . . . . . . . . . . . . . . | 6:30 PM |
| Wednesday Evening | . . . . . . . . . . . . . . | 7:30 PM |
Contact Information:
E Mail: leroy@lrcressy.com
US Mail:
Rev. LeRoy Cressy
P.O. Box 1731
Philadelphia, PA 19105
Phone: 215-535-4037




Return to Home Page: http://lrcressy.com/church/ch-index.html

Return to Bible Study Index: http://lrcressy/church/sermons/2002/Index-2002.html

Copyright © 2002 LeRoy D. Cressy
Permission is granted to make and distribute verbatim copies of this sermon as long as this copyright and permission notice appear.

Last modified: Sun Jan 19 13:33:19 EST 2003