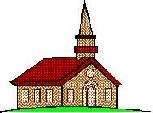 The Full Gospel Church

| | | |
| --- | --- | --- |
| Vol. VII Number 18 | | May 25, 2003 |

Followers of God
Ephesians 5:1-5

1 Be ye therefore followers of God, as dear children;
2 And walk in love, as Christ also hath loved us, and hath given himself for us an offering and a sacrifice to God for a sweetsmelling savour.
3 But fornication, and all uncleanness, or covetousness, let it not be once named among you, as becometh saints;
4 Neither filthiness, nor foolish talking, nor jesting, which are not convenient: but rather giving of thanks.
5 For this ye know, that no whoremonger, nor unclean person, nor covetous man, who is an idolater, hath any inheritance in the kingdom of Christ and of God.
Being a Christian is a lot more than just joining a church, or having a form of godliness. When you become a Christian your entire life changes and you no longer are a follower of the ways of the world. For instance, the world celebrates everything that the Bible calls sin.
Fornication

The world celebrates fornication on a daily basis. Television portrays fornication as a normal activity while the righteous virgin is portrayed as a fool. Schools teach the students about sex and give birth control in various forms to our children expecting them to have sex.

Covetousness

The world celebrates covetousness with enticing you to desire your neighbors goods and wife. Adultery is portrayed as normal on our televisions and the commercials are continually enticing you to buy something that you do not need or want. But if your neighbor has it you must also have it. The Bible clearly teaches us not to covet, but the message from the media tells us to covet.

Filthiness

All you have to do is look around and see the effect of filthiness all around us. Filthiness has become a mainstay of society while the world considers cleanliness abnormal. We are taught that trash should be thrown on the street and sidewalk.

Foolish Talking

There are many who spend their time telling stories, jokes, and whatever. They think that all they have to do is to, ``Be the life of the party.'' How many times have you heard someone talking about some new foolishness.

The Full Gospel Church
3014 E Street
Philadelphia, PA 19134
Church Office Phone: (215) 634-3637
Published by: Rev. LeRoy D. Cressy (215) 535-4037

Services:
| | | |
| --- | --- | --- |
| Sunday School | . . . . . . . . . . . . . . | 11:30 AM |
| Sunday Morning Worship | . . . . . . . . . . . . . . | 12 NOON |
| Sunday Evening | . . . . . . . . . . . . . . | 6:30 PM |
| Wednesday Evening | . . . . . . . . . . . . . . | 7:30 PM |
Contact Information:
E Mail: leroy@lrcressy.com
US Mail:
Rev. LeRoy Cressy
P.O. Box 1731
Philadelphia, PA 19105
Phone: 215-535-4037




Return to Home Page: http://lrcressy.com/church/ch-index.html

Return to Bible Study Index: http://lrcressy/church/sermons/2002/Index-2002.html

Copyright © 2002 LeRoy D. Cressy
Permission is granted to make and distribute verbatim copies of this sermon as long as this copyright and permission notice appear.

Last modified: Sun May 25 15:19:53 EDT 2003