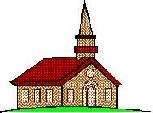 The Full Gospel Church

| | | |
| --- | --- | --- |
| Vol. VII Number 19 | | June 1, 2003 |

Jesus our Lord and Savior
Many say that Jesus is their Lord and Savior, but few really follow the Lord Jesus Christ as their Lord. It is one thing to call Jesus Lord and it is another to follow him as your Lord. If you call Jesus Lord don't you think that you should follow him as your Lord and master?
John 13:1-17

1 Now before the feast of the passover, when Jesus knew that his hour was come that he should depart out of this world unto the Father, having loved his own which were in the world, he loved them unto the end.
2 And supper being ended, the devil having now put into the heart of Judas Iscariot, Simon's son, to betray him;
3 Jesus knowing that the Father had given all things into his hands, and that he was come from God, and went to God;
4 He riseth from supper, and laid aside his garments; and took a towel, and girded himself.
5 After that he poureth water into a bason, and began to wash the disciples' feet, and to wipe them with the towel wherewith he was girded.
6 Then cometh he to Simon Peter: and Peter saith unto him, Lord, dost thou wash my feet?
7 Jesus answered and said unto him, What I do thou knowest not now; but thou shalt know hereafter.
8 Peter saith unto him, Thou shalt never wash my feet. Jesus answered him, If I wash thee not, thou hast no part with me.
9 Simon Peter saith unto him, Lord, not my feet only, but also my hands and my head.
10 Jesus saith to him, He that is washed needeth not save to wash his feet, but is clean every whit: and ye are clean, but not all.
11 For he knew who should betray him; therefore said he, Ye are not all clean.
12 So after he had washed their feet, and had taken his garments, and was set down again, he said unto them, Know ye what I have done to you?
13 Ye call me Master and Lord: and ye say well; for so I am.
14 If I then, your Lord and Master, have washed your feet; ye also ought to wash one another's feet.
15 For I have given you an example, that ye should do as I have done to you.
16 Verily, verily, I say unto you, The servant is not greater than his lord; neither he that is sent greater than he that sent him.
17 If ye know these things, happy are ye if ye do them.
Jesus used this example to show his disciples that to be a follower of Christ you must be willing to humble yourself and become a servant. Many do not want to be a servant, but a master. In the Lord's kingdom if you are a master, then you are not following the Lord. It is one thing to call yourself a Christian and another to really be one. The born again Christian is a true follower of the Lord Jesus Christ.
To be a follower of the Lord Jesus is to be like him and follow his example in our lives. We are to be righteous citizens in the Lord's kingdom and not rulers and masters.
Ephesians 5:1-20

1 Be ye therefore followers of God, as dear children;
2 And walk in love, as Christ also hath loved us, and hath given himself for us an offering and a sacrifice to God for a sweetsmelling savour.
3 But fornication, and all uncleanness, or covetousness, let it not be once named among you, as becometh saints;
4 Neither filthiness, nor foolish talking, nor jesting, which are not convenient: but rather giving of thanks.
5 For this ye know, that no whoremonger, nor unclean person, nor covetous man, who is an idolater, hath any inheritance in the kingdom of Christ and of God.
6 Let no man deceive you with vain words: for because of these things cometh the wrath of God upon the children of disobedience.
7 Be not ye therefore partakers with them.
8 For ye were sometimes darkness, but now are ye light in the Lord: walk as children of light:
9 (For the fruit of the Spirit is in all goodness and righteousness and truth;)
10 Proving what is acceptable unto the Lord.
11 And have no fellowship with the unfruitful works of darkness, but rather reprove them.
12 For it is a shame even to speak of those things which are done of them in secret.
13 But all things that are reproved are made manifest by the light: for whatsoever doth make manifest is light.
14 Wherefore he saith, Awake thou that sleepest, and arise from the dead, and Christ shall give thee light.
15 See then that ye walk circumspectly, not as fools, but as wise,
16 Redeeming the time, because the days are evil.
17 Wherefore be ye not unwise, but understanding what the will of the Lord is.
18 And be not drunk with wine, wherein is excess; but be filled with the Spirit;
19 Speaking to yourselves in psalms and hymns and spiritual songs, singing and making melody in your heart to the Lord;
20 Giving thanks always for all things unto God and the Father in the name of our Lord Jesus Christ;
Paul spent most of his time writing about how to live for the Lord. His writings to the Churches included many examples on how the Christian is to spend his life following the Lord. If Jesus is your Lord then you need to follow him as you would follow any lord on the earth. If President Bush asked you to do something wouldn't you do it? Then how much more important is it to follow the Lord?

The Full Gospel Church
3014 E Street
Philadelphia, PA 19134
Church Office Phone: (215) 634-3637
Published by: Rev. LeRoy D. Cressy (215) 535-4037

Services:
| | | |
| --- | --- | --- |
| Sunday School | . . . . . . . . . . . . . . | 11:30 AM |
| Sunday Morning Worship | . . . . . . . . . . . . . . | 12 NOON |
| Sunday Evening | . . . . . . . . . . . . . . | 6:30 PM |
| Wednesday Evening | . . . . . . . . . . . . . . | 7:30 PM |
Contact Information:
E Mail: leroy@lrcressy.com
US Mail:
Rev. LeRoy Cressy
P.O. Box 1731
Philadelphia, PA 19105
Phone: 215-535-4037




Return to Home Page: http://lrcressy.com/church/ch-index.html

Return to Bible Study Index: http://lrcressy/church/sermons/2002/Index-2002.html

Copyright © 2002 LeRoy D. Cressy
Permission is granted to make and distribute verbatim copies of this sermon as long as this copyright and permission notice appear.

Last modified: Sun May 25 15:19:53 EDT 2003