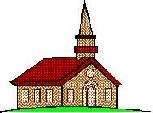 The Full Gospel Church

| | | |
| --- | --- | --- |
| Vol. IV Number 46 | | November 26, 2000 |

Being Thankful
As we close the Thanksgiving weekend there is still time for us to reflect what God has provided us with. He has given us His divine life so we may live. Besides that he has given us life and life more abundantly. Whereas the world has just celebrated Thanksgiving, many are unhappy with their life. You can hear them complain about everything that is wrong. The Christian on the other hand, has abundant life.
John 10:1-10

1 Verily, verily, I say unto you, He that entereth not by the door into the sheepfold, but climbeth up some other way, the same is a thief and a robber.
2 But he that entereth in by the door is the shepherd of the sheep.
3 To him the porter openeth; and the sheep hear his voice: and he calleth his own sheep by name, and leadeth them out.
4 And when he putteth forth his own sheep, he goeth before them, and the sheep follow him: for they know his voice.
5 And a stranger will they not follow, but will flee from him: for they know not the voice of strangers.
6 This parable spake Jesus unto them: but they understood not what things they were which he spake unto them.
7 Then said Jesus unto them again, Verily, verily, I say unto you, I am the door of the sheep.
8 All that ever came before me are thieves and robbers: but the sheep did not hear them.
9 I am the door: by me if any man enter in, he shall be saved, and shall go in and out, and find pasture.
10 The thief cometh not, but for to steal, and to kill, and to destroy: I am come that they might have life, and that they might have it more abundantly.
The Christian life is truly an abundant life. We have a hope that the world does not have. We have a savior that the world does not know. Where the world is living in fear and and turmoil, the Christian has a life that far exceeds the life of those around them. Now it is time to take stock of what we have to be thankful just like the Pilgrims did at Plymouth, MA.
The following table is for you to fill out with the left column specifying what you are thankful for and the right column specifies the Bible reference where God is the one who really provided the blessing. I realize that filling out the right column will be a little tough, but with a little thought and consideration you can do it.
Item
Bible Reference
Salvation by a risen Savior

Luke 19:10

10 For the Son of man is come to seek and to save that which was lost.

&nbsp



&nbsp
&nbsp



&nbsp
&nbsp



&nbsp
&nbsp



&nbsp
&nbsp



&nbsp
&nbsp



&nbsp
&nbsp



&nbsp
&nbsp



&nbsp
&nbsp



&nbsp
&nbsp



&nbsp
Now that you have thought a little about what you have to be thankful for, now is the time to really thank the Lord Jesus Christ for giving you this wonderful life.
It is very easy to get caught up in this world and forget what God has given you. When you find yourself being overwhelmed by everything, dig out this list and praise the Lord for all the goodness he has given you.

The Full Gospel Church

	3014 E Street
	Philadelphia, PA  19134
	Church Office Phone: (215) 634-3637
	Published by: Rev. LeRoy D. Cressy (215) 535-4037 


	                    Services:

	Sunday School  . . . . . . . . . . . . . .11:30 AM

	Sunday Morning Worship . . . . . . . . . . 12 NOON

	Sunday Evening . . . . . . . . . . . . . . 6:30 PM

	Wednesday Evening  . . . . . . . . . . . . 7:30 PM

    
Copyright © 2000 LeRoy D. Cressy
Permission is granted to make and distribute verbatim copies of this transcript as long as the copyright and this permission notice appear.

Last modified: Sat Nov 25 18:21:02 EST 2000