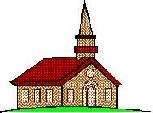 The Full Gospel Church

| | | |
| --- | --- | --- |
| Vol. VI Number 18 | | May 12, 2002 |

Predestination and Foreknowledge of God
There have been many sermons preached about predestination and the foreknowledge of God. There are many who believe that both are the same and that you are either predestined to spend eternity in heaven or in hell regardless of your actions. Others believe that based on your actions God has the foreknowledge on how you will accept his divine gift of salvation on whether you will spend eternity in hell or in heaven.
Ephesians 1:1-23

1 Paul, an apostle of Jesus Christ by the will of God, to the saints which are at Ephesus, and to the faithful in Christ Jesus:
2 Grace be to you, and peace, from God our Father, and from the Lord Jesus Christ.
3 Blessed be the God and Father of our Lord Jesus Christ, who hath blessed us with all spiritual blessings in heavenly places in Christ:
4 According as he hath chosen us in him before the foundation of the world, that we should be holy and without blame before him in love:
5 Having predestinated us unto the adoption of children by Jesus Christ to himself, according to the good pleasure of his will,
6 To the praise of the glory of his grace, wherein he hath made us accepted in the beloved.
7 In whom we have redemption through his blood, the forgiveness of sins, according to the riches of his grace;
8 Wherein he hath abounded toward us in all wisdom and prudence;
9 Having made known unto us the mystery of his will, according to his good pleasure which he hath purposed in himself:
10 That in the dispensation of the fulness of times he might gather together in one all things in Christ, both which are in heaven, and which are on earth; even in him:
11 In whom also we have obtained an inheritance, being predestinated according to the purpose of him who worketh all things after the counsel of his own will:
12 That we should be to the praise of his glory, who first trusted in Christ.
13 In whom ye also trusted, after that ye heard the word of truth, the gospel of your salvation: in whom also after that ye believed, ye were sealed with that holy Spirit of promise,
14 Which is the earnest of our inheritance until the redemption of the purchased possession, unto the praise of his glory.
15 Wherefore I also, after I heard of your faith in the Lord Jesus, and love unto all the saints,
16 Cease not to give thanks for you, making mention of you in my prayers;
17 That the God of our Lord Jesus Christ, the Father of glory, may give unto you the spirit of wisdom and revelation in the knowledge of him:
18 The eyes of your understanding being enlightened; that ye may know what is the hope of his calling, and what the riches of the glory of his inheritance in the saints,
19 And what is the exceeding greatness of his power to us-ward who believe, according to the working of his mighty power,
20 Which he wrought in Christ, when he raised him from the dead, and set him at his own right hand in the heavenly places,
21 Far above all principality, and power, and might, and dominion, and every name that is named, not only in this world, but also in that which is to come:
22 And hath put all things under his feet, and gave him to be the head over all things to the church,
23 Which is his body, the fulness of him that filleth all in all.
In verses we see the phrase, ``being predestinated according to the purpose of him who worketh all things after the counsel of his own will:'' Does this mean that we have no choice about our salvation or does it mean that God has the foreknowledge of what choice we will make? If God has the foreknowledge of our present and future choices, that goes along with the scriptures that tell us that God knows the end from the beginning.
In verse 4 of Ephesians 1, we see that God has chosen us from before the foundation of the world that we should be holy and without blame before him in love. There are many who use predestination to be a license to live a life of sin. The Bible tells us that we are predestinated to be holy and without blame. The Christian is to live a life that is above reproach in the eyes of the world. We are to live a holy life that is free from sin and guilt. The Christian who chooses a life of sin is not predestinated for heaven, but his choices have made him predestinated for the eternal pit in the flames of hell. When you accept the gift of grace from our Lord and Saviour Jesus Christ, you are predestinated from before the foundation of the world to be holy and without blame. By living the life that Christ would have us to live, assures us a place with him.
The Apostles Paul, Peter, John, James, and all of the others all admonish us to live a righteous and holy life. Each one tells us time and time again that the consequences of sin is death.
Romans 6:23

23 For the wages of sin is death; but the gift of God is eternal life through Jesus Christ our Lord.
God does not make our choices for us, but he does know what our choice will be. He knows if we will choose whether to live for him, or if we will choose to live for the world. He knows if the cares of this world will consume us and though we repented of our sins, and were filled with the Holy Ghost, we fall back to the ways of the world. The Lord knows what choices we are going to make before we make them, but he still lets us make the choice. It is like Jesus described in the sower and the seed.
Matthew 13:3-23

3 And he spake many things unto them in parables, saying, Behold, a sower went forth to sow;
4 And when he sowed, some seeds fell by the way side, and the fowls came and devoured them up:
5 Some fell upon stony places, where they had not much earth: and forthwith they sprung up, because they had no deepness of earth:
6 And when the sun was up, they were scorched; and because they had no root, they withered away.
7 And some fell among thorns; and the thorns sprung up, and choked them:
8 But other fell into good ground, and brought forth fruit, some an hundredfold, some sixtyfold, some thirtyfold.
9 Who hath ears to hear, let him hear.
10 And the disciples came, and said unto him, Why speakest thou unto them in parables?
11 He answered and said unto them, Because it is given unto you to know the mysteries of the kingdom of heaven, but to them it is not given.
12 For whosoever hath, to him shall be given, and he shall have more abundance: but whosoever hath not, from him shall be taken away even that he hath.
13 Therefore speak I to them in parables: because they seeing see not; and hearing they hear not, neither do they understand.
14 And in them is fulfilled the prophecy of Esaias, which saith, By hearing ye shall hear, and shall not understand; and seeing ye shall see, and shall not perceive:
15 For this people's heart is waxed gross, and their ears are dull of hearing, and their eyes they have closed; lest at any time they should see with their eyes and hear with their ears, and should understand with their heart, and should be converted, and I should heal them.
16 But blessed are your eyes, for they see: and your ears, for they hear.
17 For verily I say unto you, That many prophets and righteous men have desired to see those things which ye see, and have not seen them; and to hear those things which ye hear, and have not heard them.
18 Hear ye therefore the parable of the sower.
19 When any one heareth the word of the kingdom, and understandeth it not, then cometh the wicked one, and catcheth away that which was sown in his heart. This is he which received seed by the way side.
20 But he that received the seed into stony places, the same is he that heareth the word, and anon with joy receiveth it;
21 Yet hath he not root in himself, but dureth for a while: for when tribulation or persecution ariseth because of the word, by and by he is offended.
22 He also that received seed among the thorns is he that heareth the word; and the care of this world, and the deceitfulness of riches, choke the word, and he becometh unfruitful.
23 But he that received seed into the good ground is he that heareth the word, and understandeth it; which also beareth fruit, and bringeth forth, some an hundredfold, some sixty, some thirty.
Which are you? Have you heard the Word of God but lack understanding and have never had a change of life? Or are you the one who in the face of tribulation, decide that it was better for you before you became a Christian? Or are you one that cares so much about the acquisition of wealth that your interest lies more with the world than with the Lord Jesus Christ? Finally, are you one of the few who continue to grow in the Lord Jesus Christ? Jesus doesn't make the choice for you, but you are the one who decides. Jesus knows who you are and what choice you will make.
Today, you might be saying, ``I'm the good ground, and I am going to grow and prosper in Christ.'' Tomorrow, next week, next month, or even next year, you will know who you really are. You will know if you have the fortitude to stand up against persecution, temptation, cares of this world, and all of the other influences of this life. You will know who you are better then than you know yourself today.
To be one of the few who are of the good ground takes a lot of strength, courage, and will. According to statistics and the bible there are few who will make it to the promised land. Most will fall to one kind of temptation or other. Are you strong enough to stand when the rest of the world around you is going the other way? Are you strong enough to stand when your life is threatened? Many in the ``free'' world have never had to face these temptations and persecutions, but the day is soon arriving when you will. How strong is your faith in the Lord Jesus Christ?

The Full Gospel Church
3014 E Street
Philadelphia, PA 19134
Church Office Phone: (215) 634-3637
Published by: Rev. LeRoy D. Cressy (215) 535-4037

Services:
| | | |
| --- | --- | --- |
| Sunday School | . . . . . . . . . . . . . . | 11:30 AM |
| Sunday Morning Worship | . . . . . . . . . . . . . . | 12 NOON |
| Sunday Evening | . . . . . . . . . . . . . . | 6:30 PM |
| Wednesday Evening | . . . . . . . . . . . . . . | 7:30 PM |
Contact Information:
E Mail: leroy@lrcressy.com
US Mail:
Rev. LeRoy Cressy
P.O. Box 1731
Philadelphia, PA 19105
Phone: 215-535-4037




Return to Home Page: http://lrcressy.com/church/ch-index.html

Return to Bible Study Index: http://lrcressy/church/sermons/2002/Index-2002.html

Copyright © 2002 LeRoy D. Cressy
Permission is granted to make and distribute verbatim copies of this sermon as long as this copyright and permission notice appear.

Last modified: Sun May 12 09:07:19 EDT 2002