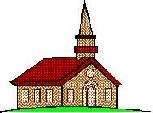 The Full Gospel Church

| | | |
| --- | --- | --- |
| Vol. VI Number 22 | | June 16, 2002 |

Possibility of Nuclear Attack
On June 10, 2002 John Ashcroft, the Attorney General made an announcement of the arrest of suspected terrorist Abdullah al Muhajir: See NY Times Article `Ashcroft's Announcement'
I am pleased to announce today a significant step forward in the war on terrorism. We have captured a known terrorist who was exploring a plan to build and explode a radiological dispersion device, or "dirty bomb," in the United States.
Since the 10th there have been 33 articles in the NY Times concerning the development and manufacture of nuclear devices aimed at the United States. These times are just like the Bible states that we are living in perilous times. We are dealing with people who do not believe in the the Bible, and they hold little respect for their own life. The kamikaze in World War II did not care for his life, but his target was just military targets. These people want to kill themselves along with military, government, and the civilian population. They are willing to detonate nuclear bombs in order to meat their goals.
A search of the NY Times web site revealed the following since Mr. Ashcroft's announcement on June 10, 2002.
his article was reported and written by David Johnston, Don Van Natta Jr. and Judith Miller.

WASHINGTON, June 15 — A group of mid-level operatives has assumed a more prominent role in Al Qaeda and is working in tandem with Middle Eastern extremists across the Islamic world, senior government officials say. They say the alliance, which extends from North Africa to Southeast Asia, now poses the most serious terrorist threat to the United States.

Filed at 1:14 p.m. ET

NEW YORK (Reuters) - ``Dirty bomb'' suspect Jose Padilla brought al Qaeda officials ``laughably inaccurate'' instructions to make a hydrogen bomb and was urged to focus on a conventional explosive combined with radioactive material, Time magazine reported on Sunday.

OMESTICALLY The Justice Department said it had interrupted a plot to set off a so-called dirty bomb in the U.S. centering around a 31-year-old former gang member, Jose Padilla. Mr. Padilla, who was raised Catholic but converted to Islam and used the name Abdullah al-Muhajir, was arrested on May 8 in Chicago after his arrival on a flight from Zurich and held in New York. Then officials ``apparently with little evidence of any crime in hand and faced with a court proceeding that could have forced them to decide whether to file criminal charges'' designated Mr. Padilla an enemy combatant, allowing them to hold him indefinitely. He was transferred to a military prison in South Carolina, and his arrest and the thwarted plot was announced.
These are just a tiny portion of the articles that are in today's NY Times concerning the use of nuclear weapons against the United States. During the cold war there was a mutual destruction deterrent, but the ones who have the ability, finances, and believe that if they die in a ``holy war'' they will immediately go to heaven. These people have no fear of death. They are willing to commit suicide to fulfill their end. The Bible has a good description of the end result.
Revelation 18:1-24

1 And after these things I saw another angel come down from heaven, having great power; and the earth was lightened with his glory.
2 And he cried mightily with a strong voice, saying, Babylon the great is fallen, is fallen, and is become the habitation of devils, and the hold of every foul spirit, and a cage of every unclean and hateful bird.
3 For all nations have drunk of the wine of the wrath of her fornication, and the kings of the earth have committed fornication with her, and the merchants of the earth are waxed rich through the abundance of her delicacies.
4 And I heard another voice from heaven, saying, Come out of her, my people, that ye be not partakers of her sins, and that ye receive not of her plagues.
5 For her sins have reached unto heaven, and God hath remembered her iniquities.
6 Reward her even as she rewarded you, and double unto her double according to her works: in the cup which she hath filled fill to her double.
7 How much she hath glorified herself, and lived deliciously, so much torment and sorrow give her: for she saith in her heart, I sit a queen, and am no widow, and shall see no sorrow.
8 Therefore shall her plagues come in one day, death, and mourning, and famine; and she shall be utterly burned with fire: for strong is the Lord God who judgeth her.
9 And the kings of the earth, who have committed fornication and lived deliciously with her, shall bewail her, and lament for her, when they shall see the smoke of her burning,
10 Standing afar off for the fear of her torment, saying, Alas, alas that great city Babylon, that mighty city! for in one hour is thy judgment come.
11 And the merchants of the earth shall weep and mourn over her; for no man buyeth their merchandise any more:
12 The merchandise of gold, and silver, and precious stones, and of pearls, and fine linen, and purple, and silk, and scarlet, and all thyine wood, and all manner vessels of ivory, and all manner vessels of most precious wood, and of brass, and iron, and marble,
13 And cinnamon, and odours, and ointments, and frankincense, and wine, and oil, and fine flour, and wheat, and beasts, and sheep, and horses, and chariots, and slaves, and souls of men.
14 And the fruits that thy soul lusted after are departed from thee, and all things which were dainty and goodly are departed from thee, and thou shalt find them no more at all.
15 The merchants of these things, which were made rich by her, shall stand afar off for the fear of her torment, weeping and wailing,
16 And saying, Alas, alas, that great city, that was clothed in fine linen, and purple, and scarlet, and decked with gold, and precious stones, and pearls!
17 For in one hour so great riches is come to nought. And every shipmaster, and all the company in ships, and sailors, and as many as trade by sea, stood afar off,
18 And cried when they saw the smoke of her burning, saying, What city is like unto this great city!
19 And they cast dust on their heads, and cried, weeping and wailing, saying, Alas, alas, that great city, wherein were made rich all that had ships in the sea by reason of her costliness! for in one hour is she made desolate.
20 Rejoice over her, thou heaven, and ye holy apostles and prophets; for God hath avenged you on her.
21 And a mighty angel took up a stone like a great millstone, and cast it into the sea, saying, Thus with violence shall that great city Babylon be thrown down, and shall be found no more at all.
22 And the voice of harpers, and musicians, and of pipers, and trumpeters, shall be heard no more at all in thee; and no craftsman, of whatsoever craft he be, shall be found any more in thee; and the sound of a millstone shall be heard no more at all in thee;
23 And the light of a candle shall shine no more at all in thee; and the voice of the bridegroom and of the bride shall be heard no more at all in thee: for thy merchants were the great men of the earth; for by thy sorceries were all nations deceived.
24 And in her was found the blood of prophets, and of saints, and of all that were slain upon the earth.
We definitely are living in the last days where the threat of mutual destruction is no longer a threat. We are living in perilous times where the deluded of the world only see death and destruction with no hope for their own life.
2 Timothy 3:1-7

1 This know also, that in the last days perilous times shall come.
2 For men shall be lovers of their own selves, covetous, boasters, proud, blasphemers, disobedient to parents, unthankful, unholy,
3 Without natural affection, trucebreakers, false accusers, incontinent, fierce, despisers of those that are good,
4 Traitors, heady, highminded, lovers of pleasures more than lovers of God;
5 Having a form of godliness, but denying the power thereof: from such turn away.
6 For of this sort are they which creep into houses, and lead captive silly women laden with sins, led away with divers lusts,
7 Ever learning, and never able to come to the knowledge of the truth.

The Full Gospel Church
3014 E Street
Philadelphia, PA 19134
Church Office Phone: (215) 634-3637
Published by: Rev. LeRoy D. Cressy (215) 535-4037

Services:
| | | |
| --- | --- | --- |
| Sunday School | . . . . . . . . . . . . . . | 11:30 AM |
| Sunday Morning Worship | . . . . . . . . . . . . . . | 12 NOON |
| Sunday Evening | . . . . . . . . . . . . . . | 6:30 PM |
| Wednesday Evening | . . . . . . . . . . . . . . | 7:30 PM |
Contact Information:
E Mail: leroy@lrcressy.com
US Mail:
Rev. LeRoy Cressy
P.O. Box 1731
Philadelphia, PA 19105
Phone: 215-535-4037




Return to Home Page: http://lrcressy.com/church/ch-index.html

Return to Bible Study Index: http://lrcressy/church/sermons/2002/Index-2002.html

Copyright © 2002 LeRoy D. Cressy
Permission is granted to make and distribute verbatim copies of this sermon as long as this copyright and permission notice appear.

Last modified: Sun Jun 2 13:25:40 EDT 2002