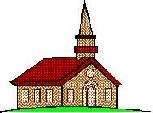 The Full Gospel Church

| | | |
| --- | --- | --- |
| Vol. VI Number 31 | | August 18, 2002 |

The New Red Scare
While reading the Wall Street Journal this past Wednesday there was an article that caught my eye titled, ``The New Red Scare.'' As I was reading this comment I thought about the creeping influence of government in our lives and the control / freedom that the government is usurping from us. As long as the leaders can scare us, we will be willing to abdicate our rights to the government. Below is a list of web sites dealing with the items brought up in the Wall Street Journal.
Under Fire, Justice Shrinks TIPS Program
Bush's Colder War And The New `Red Scare'
The New Red Scare

The history of the United States is pretty dismal when it comes to civil rights. So the question is, ``Do you want your mailman to an agent of a secret police organization?'' Though the government has officially halted Operation TIPS, it probably still is being executed on a higher level of security. The following list is a list of sites specifically about TIPS.
OPERATION TIPS FACT SHEET
Operation TIPS (Terrorism Information and Prevention System) was introduced as a program in development in January 2002. This document contains information a bout the background and purpose of the program as it has developed over the past six months, a list of the industries that will be invited to participate in the final program, specific information about the design of the reporting system, and information about existing similar systems.
AmeriSnitch
With the familiar strains of "Heeeeere's Johnny" resounding throughout the auditorium, professional side kick Ed McMahon introduced Attorney General John Ashcroft to an enthusiastic audience of representatives from more than 300 Neighborhood Watch groups meeting in Washington, D.C., in early March. Ashcroft was unveiling a new and expanded mission for the Neighborhood Watch Program. He announced a grant of $1.9 million in federal funds to help the National Sheriffs' Association double the number of participant groups to 15,000 nationwide.
Operation TIPS Scaled Back, ACLU Still Critical
"This looks like public relations damage control -- the Department of Justice has scaled back its program of government-sanctioned peeping toms, but has done little to fix the underlying problem," said Rachel King, an ACLU Legislative Counsel.
Feds overhaul Operation TIPS plan
A Bush administration proposal for a network of anti-terrorism tipsters is being overhauled, thanks to harsh criticism that it would encourage Americans to spy on one another.

What does all of this have to do with a Bible study and why should the Christian community be concerned with all of this? In the last days there will be a perilous time when children will hate their parents, and neighbors will hate their neighbors. We are now living in that era! All you have to do is look at the evening news, read a newspaper, read the Internet news sites, or listen to the radio.
2 Timothy 3:1-7

1 This know also, that in the last days perilous times shall come.
2 For men shall be lovers of their own selves, covetous, boasters, proud, blasphemers, disobedient to parents, unthankful, unholy,
3 Without natural affection, trucebreakers, false accusers, incontinent, fierce, despisers of those that are good,
4 Traitors, heady, highminded, lovers of pleasures more than lovers of God;
5 Having a form of godliness, but denying the power thereof: from such turn away.
6 For of this sort are they which creep into houses, and lead captive silly women laden with sins, led away with divers lusts,
7 Ever learning, and never able to come to the knowledge of the truth.

Micah 7:1-7

1 Woe is me! for I am as when they have gathered the summer fruits, as the grapegleanings of the vintage: there is no cluster to eat: my soul desired the firstripe fruit.
2 The good man is perished out of the earth: and there is none upright among men: they all lie in wait for blood; they hunt every man his brother with a net.
3 That they may do evil with both hands earnestly, the prince asketh, and the judge asketh for a reward; and the great man, he uttereth his mischievous desire: so they wrap it up.
4 The best of them is as a brier: the most upright is sharper than a thorn hedge: the day of thy watchmen and thy visitation cometh; now shall be their perplexity.
5 Trust ye not in a friend, put ye not confidence in a guide: keep the doors of thy mouth from her that lieth in thy bosom.
6 For the son dishonoureth the father, the daughter riseth up against her mother, the daughter in law against her mother in law; a man's enemies are the men of his own house.
7 Therefore I will look unto the LORD; I will wait for the God of my salvation: my God will hear me.

Matthew 10:16-42

16 Behold, I send you forth as sheep in the midst of wolves: be ye therefore wise as serpents, and harmless as doves.
17 But beware of men: for they will deliver you up to the councils, and they will scourge you in their synagogues;
18 And ye shall be brought before governors and kings for my sake, for a testimony against them and the Gentiles.
19 But when they deliver you up, take no thought how or what ye shall speak: for it shall be given you in that same hour what ye shall speak.
20 For it is not ye that speak, but the Spirit of your Father which speaketh in you.
21 And the brother shall deliver up the brother to death, and the father the child: and the children shall rise up against their parents, and cause them to be put to death.
22 And ye shall be hated of all men for my name's sake: but he that endureth to the end shall be saved.
23 But when they persecute you in this city, flee ye into another: for verily I say unto you, Ye shall not have gone over the cities of Israel, till the Son of man be come.
24 The disciple is not above his master, nor the servant above his lord.
25 It is enough for the disciple that he be as his master, and the servant as his lord. If they have called the master of the house Beelzebub, how much more shall they call them of his household?
26 Fear them not therefore: for there is nothing covered, that shall not be revealed; and hid, that shall not be known.
27 What I tell you in darkness, that speak ye in light: and what ye hear in the ear, that preach ye upon the housetops.
28 And fear not them which kill the body, but are not able to kill the soul: but rather fear him which is able to destroy both soul and body in hell.
29 Are not two sparrows sold for a farthing? and one of them shall not fall on the ground without your Father.
30 But the very hairs of your head are all numbered.
31 Fear ye not therefore, ye are of more value than many sparrows.
32 Whosoever therefore shall confess me before men, him will I confess also before my Father which is in heaven.
33 But whosoever shall deny me before men, him will I also deny before my Father which is in heaven.
34 Think not that I am come to send peace on earth: I came not to send peace, but a sword.
35 For I am come to set a man at variance against his father, and the daughter against her mother, and the daughter in law against her mother in law.
36 And a man's foes shall be they of his own household.
37 He that loveth father or mother more than me is not worthy of me: and he that loveth son or daughter more than me is not worthy of me.
38 And he that taketh not his cross, and followeth after me, is not worthy of me.
39 He that findeth his life shall lose it: and he that loseth his life for my sake shall find it.
40 He that receiveth you receiveth me, and he that receiveth me receiveth him that sent me.
41 He that receiveth a prophet in the name of a prophet shall receive a prophet's reward; and he that receiveth a righteous man in the name of a righteous man shall receive a righteous man's reward.
42 And whosoever shall give to drink unto one of these little ones a cup of cold water only in the name of a disciple, verily I say unto you, he shall in no wise lose his reward.
Now the US Government is officially building a secret police agency to spy on you. They are using the ruse of terriorism as an excuse to do this. This is just another sign that we are living in the last days.

The Full Gospel Church
3014 E Street
Philadelphia, PA 19134
Church Office Phone: (215) 634-3637
Published by: Rev. LeRoy D. Cressy (215) 535-4037

Services:
| | | |
| --- | --- | --- |
| Sunday School | . . . . . . . . . . . . . . | 11:30 AM |
| Sunday Morning Worship | . . . . . . . . . . . . . . | 12 NOON |
| Sunday Evening | . . . . . . . . . . . . . . | 6:30 PM |
| Wednesday Evening | . . . . . . . . . . . . . . | 7:30 PM |
Contact Information:
E Mail: leroy@lrcressy.com
US Mail:
Rev. LeRoy Cressy
P.O. Box 1731
Philadelphia, PA 19105
Phone: 215-535-4037




Return to Home Page: http://lrcressy.com/church/ch-index.html

Return to Bible Study Index: http://lrcressy/church/sermons/2002/Index-2002.html

Copyright © 2002 LeRoy D. Cressy
Permission is granted to make and distribute verbatim copies of this sermon as long as this copyright and permission notice appear.

Last modified: Sun Aug 18 09:14:05 EDT 2002