Rev. George Washington6 Cressey (John5, John4, John3, William2, Mighill1)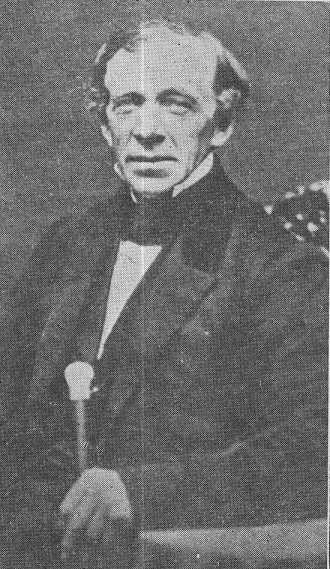 Rev. George Washington Cressey
Pastor North Congregational Church 1852-1867
Buxton, Maine
Born December 13, 1810, in Rowley, Massachusetts.
Married (1) in 1840 Caroline (Little) Betes of Kennebunk, Maine, daughter of David and granddaughter of Reverend Daniel Little. She died in 1848 at 47 at Cambridge, Massachusetts.
He married (2) November 27, 1849 Sarah Croswell, daughter of Dr. Samuel P. and Mary Croswell of Charlestown. She died August 12, 1856, at 36 in Buxton, Maine.
He married (3) Nancy Wentworth, daughter of Daniel Wentworth, Esq., of Buxton, in 1857. She died March 8, 1912, in 86th year in Buxton.
He fitted for college at Dummer Academy, Byfield, Massachusetts, and graduated at Bowdoin College, Brunswick, Maine, 1835, and Andover Theological Seminary, 1838. Ordained at Kennebunk Congregational Church in 1840, where he was pastor 12 years. He became the first settled pastor of the North Congregational Church in Buxton in 1852 and served for 15 years until his death, February 12, 1867, at 56. Buried in Rowley.
He served on the Buxton School Committee. One of the first to change the spelling of name. Mr. Cressey's last words were, "I see the angels. I am happy--happy--happy!"
860
I
Mary Croswell born September 9, 1853, married Jere M. Hill of Buxton in 1879. He was educated at Limington and Gorham Academies, and graduated at Bowdoin College, 1876, A.B. Served as principal of high schools and Superintendent of Schools, died June 17, 1909, in 58th year. She graduated Bath, Maine High School, 1871, Abbott Academy, Andover, Massachusetts, 1874.
Children of Mary and Jere M. Hill:
I

Galen W. Hill, born September 18, 1882, Dexter, Maine, married April 17, 1912, Anna B. Gilnack of Rockville, Connecticut. He graduated Buxton High School, 1900, Bowdoin College, 1904, New York State Library School, 1910. In business at Enterprise, Iowa, 1904-8. Librarian, Millicent Library, Fairhaven, Massachusetts., 1911-26, Thomas Crane Public Library, Quincy, Massachusetts, since 1926.

Children of Anna and Galen W. Hill:
I

Marjorie Croswell Hill, born March 11, 1913, New Bedford. Graduated Quincy High School, 1930, Mt. Holyoke College, 1934.

II

Laurence Gilnack Hill, born May 4 1914, New Bedford. Graduated Quincy High School, 1931, Thayer Academy, 1932. Now at Bowdoin College, Class 1936.

II

Arthur G. Hill, born September 14, 1884, Bangor, Maine, married June 10, 1916, Ethel Hunt of Washington, D. C. Educated Buxton High School, 1902, Gray's Business College, Portland, 1903. Employed in the U. S. service in Montana, Idaho, and in Washington, D. C. No children, died October 1, 1930.

III

Merrill C. Hill, born October 2, 1888, Bangor, married June 23, 1915, Phebe D. Goodwin, _____________, Woodfords, Maine. He graduated Buxton High School, 1905, Bowdoin College, 1910, A. B., attended Gottinger University, Germany, 1910-11, Harvard University, 1912-14, A. M., Dijou University, France, 1929-30, teacher, English High School, Boston.

Children of Phebe and Merrill C. Hill:
I

Priscilla Cristy Hill, born January 25, 1917, attended Notre Dame des Anges, Dijou, France, 1929-30, Stoughton High School, 1931, Maltby Business School, Stoughton, Massachusetts, 1934.