The Cressy Family
HERALDRY
William Cressey of Owlcates, England, was eldest son and heir of Henry Cressey by his second wife, Katherine, dau. of Richard Smith of Walkingham.
The same Coat of Arms also belongs to Richard Cressey of West Ravendell in Lincoln County. Gentleman aged 34 anno 1666, who married his first wife, Elizabeth, dau. of Michael Monckton of the Isle of Axholme, by whom he had one dau., Susanna. His second wife was Elizabeth, dau. of Thomas Dowdeswell.
The said Richard was eldest son and heir of Arthur Cressey of Scawberry in Lincoln County, by his wife, Susanna, dau. of Richard Thorald of Grimsby, Lincoln County, England.
CRESSEY COAT OF ARMS
A Lion, rampant black, with two tails upon a silver shield and a crest of an eagle's head and wings above a ducal crown of gold with an old English `C' below.
WILL OF SIR HUGH CRESSEY, CLAYPOLE, ENGLAND
Dated on the feast of St. Philip and St. James, May 1, 1346.
He leaves his body to be buried in the Church of St. Lawrence of Surifleet, and bequeathed small amounts to the poor of about 25 towns, to every house of Piavs in Lincoln, Stanpond and Boston, England.
Many other legacies are to his sisters, Matilda and Agnes, £4 40s. ; six small silver dishes to Sibilla Cressey, and a sapphire ring to Roger Cressey; a belt and purse to Thomas Cressey; his horse called Grisel of Sunpringham to Hugh Cressey of Marlton; another horse called Morel of Croyland to John Cressey; to his wife, Matilda, he bequeaths in trust the Manor of Claypole with all lands and tenements, and the residue to his wife as his legatee for life and then to his heirs, which legacy is charged to her account.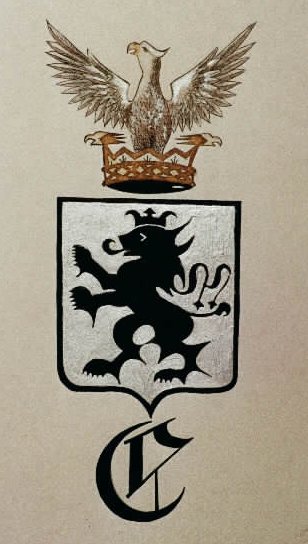 ORIGINAL CRESSEY COAT OF ARMS
(from England)
---
LeRoy Cressy