LeRoy Dodge9 Cressy (George S.8, George H.7, Aaron T.6, Jonathan5, Nathan4, Noah3, John2, Mighill1)
Born April 10, 1903 in Salem, Massachusetts.
Married November 21, 1931, Bertha R. Lange of Philadelphia, Pennsylvania in Reading, Pennsylvania. She was born Sept. 10, 1899 and was the daughter of a baker in Philadelphia. She was a homemaker and active at Redemption Lutheran Church in Rhawnhurst, Philadelphia, serving on the Altar Guild and other Church organizations. She is best remembered for her extreme kindness and generosity, who adored her grandchildren.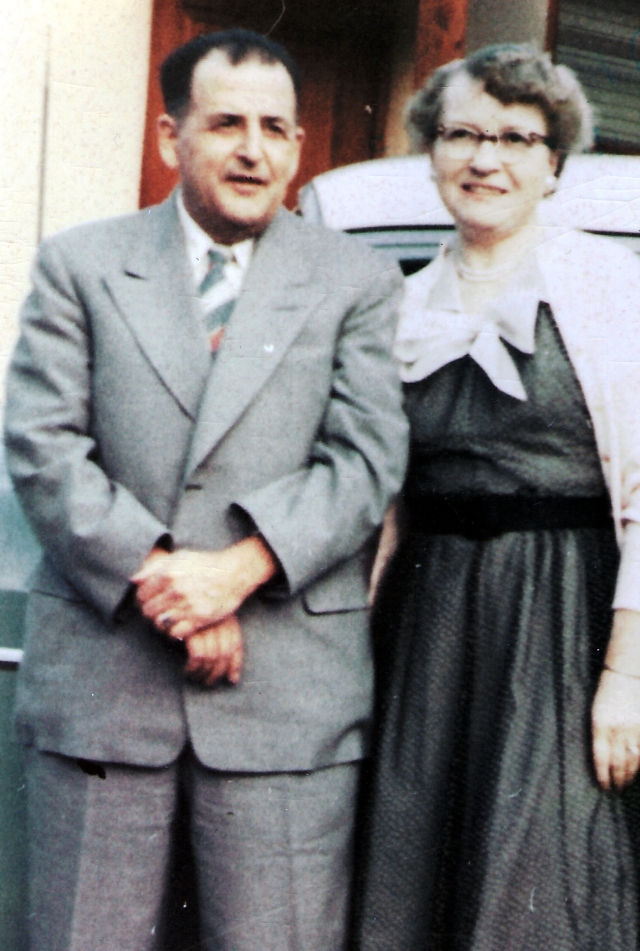 LeRoy and Bertha Cressy about 1957
He was a very successful salesman for the John F. Street Company, Providence Rhode Island, a sales agency for Globe Mills, a cotton processing company in North Carolina. He was very active at Redemption Lutheran Church in the Rhawnhurst Section of Philadelphia, serving as Treasurer of the Sunday School and many other committees, including Church Council. He was a member of the Richard Vaux Masonic Lodge, Philadelphia.
He died in 1958 at 55 years
She died in 1971 at age 72

1238
I.
LeRoy Dodge10 Cressy Jr. known as "Roy" to friends and family.
Born Saturday April 8, 1933 in Philadelphia, Pennsylvania.
Married Friday Dec 28, 1951 Sibylla Susanna Crooks when they eloped to Elkton, Maryland to get married while LeRoy was serving in the Navy as a radio technician at the Oceania Naval Air Station in Virginia Beach, Virginia.
She was born Friday September 22, 1933 and was the daughter of Chemist/Physicist William R. Crooks,who was employed by the City of Philadelphia Water Department, working at City Hall as Chief of Materials Testing Lab.
LeRoy was Manager of Planning and Administration, Sun Pipe Line Company, Philadelphia. Retired after 38 years service, 50 year member of Howell Masonic Lodge, HoneyBrook, Pennsylvania, 32nd degree Mason, Valley of Reading and a Shriner Rajah Shrine, Reading, Pennsylvania. Served as Potentate, Rajah Temple, 1992.
Sibylla was a Social Studies teacher at Upper Merion Senior High School, King of Prussia, Pennsylvania. Retired after 25 years service, 50 year member of the Order of the Eastern Star, Past President Delta Kappa Gamma International, Beta Pi Chapter.
1245
II.
George Robert10 Cressy born Thursday August 7, 1941 in Philadelphia, Pennsylvania.
Unmarried. Worked for Strawbridge & Clothier, Philadelphia, Pennsylvania for 27 years holding many different buying positions. In 1995 he took a position with Associated Merchandising Corp. (AMC) a division of the Target Corporation as Director of Home Products. Active in his community in center city Philadelphia and at the Church he attended for many years, Old Pine Street Presbyterian Church, 4th and Pine St., in the historic section of Philadelphia, where he is an ordained Elder and Deacon.
He is known as "Bob" to friends and family, thus G. Robert Cressy how he signs his name.