LeRoy Dodge10 Cressy Jr. (LeRoy D.9 George S.8, George H.7, Aaron T.6, Jonathan5, Nathan4, Noah3, John2, Mighill1)
Born Saturday April 8, 1933 in Philadelphia, Pennsylvania.
Married Friday Dec 28, 1951 Sibylla Susanna Crooks when they eloped to Elkton, Maryland to get married while LeRoy was serving in the Navy as a radio technician at the Oceania Naval Air Station in Virginia Beach, Virginia.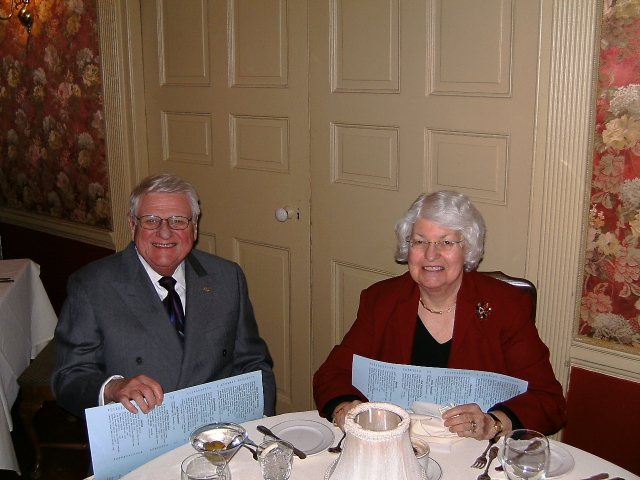 LeRoy and Billie Celebrating their 57th Anniversary
at the Ship Inn in Exton, Pennsylvania.
She was born Friday September 22, 1933 and was the daughter of Chemist/Physicist William R. Crooks,who was employed by the City of Philadelphia Water Department, working at City Hall as Chief of Materials Testing Lab.
Sibylla likes to be called Billie.
LeRoy was Manager of Planning and Administration, Sun Pipe Line Company, Philadelphia. Retired after 38 years service, 50 year member of Howell Masonic Lodge, HoneyBrook, Pennsylvania, 32nd degree Mason, Valley of Reading and a Shriner Rajah Shrine, Reading, Pennsylvania. Served as Potentate, Rajah Temple, 1992.
Sibylla was a Social Studies teacher at Upper Merion Senior High School, King of Prussia, Pennsylvania. Retired after 25 years service, 50 year member of the Order of the Eastern Star, Past President Delta Kappa Gamma International, Beta Pi Chapter.
LeRoy is called Roy by friends and family.
1239
I.
Rev. LeRoy Dodge11 Cressy III born July 29, 1953 in Philadelphia, Pennsylvania.
Married June 18, 1977, Rita Jean Jarabek in Youngstown, Ohio She was born September 28, 1952. No children.
1240
II.
Susan Margaret11 (Cressy) (Smith) Hurrell born September 10, 1957 in Philadelphia, Pennsylvania.
Married:
  (1) Robert Smith Saturday June 25, 1977 at her parents home in Downingtown, Pennsylvania. She divorced Robert ????
  (2) Daniel Roland Hurrell Saturday Mar 20, 1982.
Children of Sue and Dan Hurrell:
I.

Lauren Cressy Hurrell, born November 27, 1991, died November 27, 1991.
1241
III.
William Raymond11 Cressy born born April 27, 1961 in Philadelphia, Pennsylvania.
Married March 28, 1986 Barbara Estus, Anchorage, Alaska.
Children of Barbara and Bill Cressy:
1242
I.

Brandon Michael12 Cressy born December 5, 1988 in Anchorage, Alaska.

1243
II.

Benjamin Alexander12 Cressy born October 6, 1995 in Anchorage, Alaska.
1244
IV.
Linda Elizabeth11 (Cressy) (Formica) (Moyer) Geckle born February 6, 1964 in Philadelphia, Pennsylvania.
Married:
  (1) Brian Formica, May 26, 1984; divorced October 24, 1985; annulment November 11, 1993.
  (2) James Moyer, January 16, 1988, divorced May 5, 1992.
  (3) David Geckle.
Children of Linda and Jim Moyer:
I.

Ashley Lynn Moyer, born April 26, 1988.