Rev. Frank B.7 Cressey D.D. (Rev. Timothy6, Benjamin5, Daniel4, Daniel3, John2, Mighill1)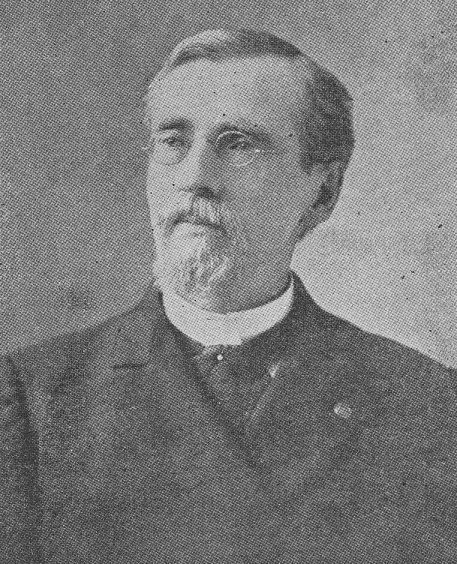 Rev. Frank B. Cressey D.D.
Pastor Baptist Church 1897-1908
Weymouth, Massachusetts
Born March 3, 1840 in Columbus, Ohio. Married:
(1) 1868 Harriet E. Janes who died in Detroit, Michigan, in 1885.
(2) 1895 Alice J. Sunderlin in Rochester, New York.
On May 1, 1854, he began to learn the printers' trade at St. Paul, Minnesota, and on that day carried the first daily papers ever printed in Minnesota. The mayor of St. Paul was editor and proprietor. In 1855 he was baptized by his father (Rev. T. R. Cressey) and united with the First Baptist Church in St. Paul. He graduated at Shurtleff College, Alton, Illinois and Rochester Theological Seminary, New York. He was editor of newspapers in Michigan and Boston, Massachusetts, was pastor of churches in California and Michigan for 20 years, at Springfield, Ohio, 1889-91, and at Weymouth, Massachusetts 1897-1908, when he retired and wrote for papers and magazines. In 1864 he enlisted in the 133rd Regiment, Illinois Volunteers. His regiment guarded 9,000 rebel prisoners all one summer. He died in Cambridge, Massachusetts, April 9, 1922, at 82.
977
II.
Kendall B.8 Cressey born 1873 in Pontiac, Michigan, married _____, no children, insurance, city editor "Daily Gazette," Springfield, Ohio, and other papers in Philadelphia and Boston. He died in 1932.
978
III.
Timothy A.8 Cressey born 1875, Pontiac, Michigan, married _____, wife died 1933. He is a business man and traveled in United States and foreign countries, soldier war with Spain, 1898. Lives in Chicago.